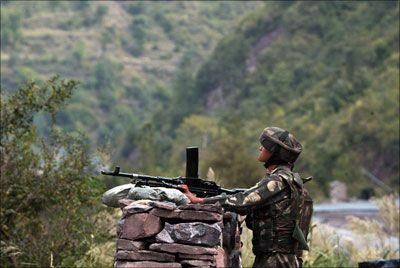 Troops of Pakistan opened fire at army posts and civilian areas in Poonch district on the Line of Control with automatic weapons and rockets for the fourth day in row on Wednesday prompting the Indian Army to return fire.
The troops of the neighbouring country continued to violate the 2003 ceasefire agreement as they targeted the Indian side for the 22nd time in August.
"The Pakistani army at 10.15 pm on Wednesday resorted to firing from across the LoC in Sabzia-Mandi sector of Poonch sector," a defence spokesman said.
"Firing is on intermittently. Troops of our side of LoC are retaliating appropriately. No casualty and damage reported till last reports came in," the spokesman said.
Pakistani troops targeted posts and civilian area with mortar shells, Rocket Projectile Grenades and Pika rounds triggering panic among the people living along LOC in Poonch.
Earlier, Pakistan had violated the ceasefire twice overnight using 120 mm mortar bombs in Poonch district.
A Defence Spokesman said, "Pakistan troops fired from small arms, mortar bombs of 120 mm and 61 mm range on forward posts along the LoC in Sabzian and Balakote sectors in Poonch district overnight".
While Pakistani troops fired from automatic weapons and 120 mm mortar shells in Sabzian sector from 2100 hours last, there was firing of small arms and 61 mm mortars along Balakote sector during the period till this morning.
Indian troops retaliated effectively, the spokesman said, adding that no one was injured in the firing.
The Pak army had violated the ceasefire twice and resorted to unprovoked firing from across the Line of Control in Krishna Ghati Sector of Poonch district around 1.00 am on Tuesday and Bhimbhergali sector in Rajouri district 11.10 pm hours on the night of August 10.
On August 9, Pakistani troops had targeted forward Indian posts along the LoC in Hamirpur-Balakote sector of Poonch district overnight, drawing retaliation from the army.
The Hamirpur, Krishnagati and Sabzian sectors in Poonch have been targeted by Pakistan troops for the past three days, possibly to facilitate infiltration from across the border.
On August 9 during the day, Pakistani troops had resorted to firing from automatic weapons and mortar shells on forward post in Mandi-Sabzaiyan sector in Poonch.
On August 7, an army jawan was injured as Pakistani troops opened fire at villages and forward posts in Poonch district along the LoC.
Pakistani troops had on August 6 resorted to intermittent firing with automatic weapons, rocket projectile grenades and mortar bombs along the LoC in Poonch district.
On August 5, Pakistani troops had violated the ceasefire twice and targeted forward posts and hamlets, in which three civilians were injured.
A youth was killed and two others, including a BSF jawan, were injured when Pakistani troops had targeted border out posts and hamlets along the International Border in 4 sectors of Kanachak, Pargwal, Tawi and R S Pura in Jammu district on August 4.