At least six people were killed and more than 150 injured on Thursday when a Karachi-bound passenger train collided with a freight train near Multan in Pakistan's Punjab province.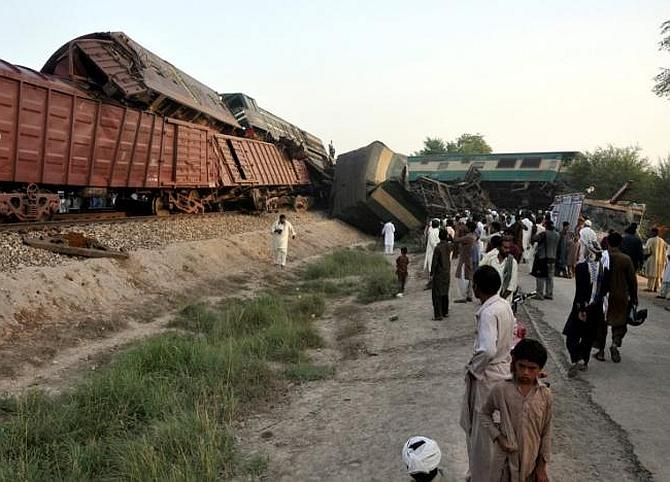 The incident took place near Bucch railway station in Sher Shah area.
It occurred when a man was reportedly overrun by a freight train and the driver stopped to recover the body, said police official Nadir Chattha.
In the meantime, Awam Express heading on the same line collided with the stationary goods train.
"The Awam Express driver was given the red signal but he could not stop the train in time and the collision took place," said a senior railways General Manager Javed Anwar, adding an inquiry committee has been constituted to probe the matter.
The passenger train which hit the freight train from the rear was moving reportedly at a speed of over 100 km per hour.
The collision wrecked the engine and power van, and overturned four bogies of Awam Express, he added.
The incident left at least six people dead and wounded over 150, out of which 18 were said to be in serious condition, said rescue official Abdul Jabbar.
"Many passengers were rescued after cutting the coaches. The rescue operation completed in four hours or so and all injured have been shifted to Nishter and other hospitals of Multan," he said, adding most of the passengers were sleeping at the time of collusion.
He said four coaches of the passenger train have completely been destroyed in the accident. A delay was initially observed in response by rescue services due to Eid holidays, according to sources.
Relief works were also affected as darkness prevailed in the vicinity.
The passenger train was enroute to Karachi from Peshawar.
Meanwhile, authorities have imposed emergency at Multan's Nishtar Medical Hospital and Shahbaz Sharif Hospital.
IMAGE: Locals gather at the scene where two trains collided near Multan, Pakistan September 15, 2016. Photograph: Khalid Chaudry/Reuters