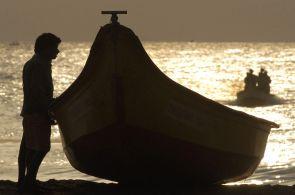 In a goodwill gesture, Pakistan government on Monday repatriated 172 Indian fishermen and one civil prisoner after the beating Retreat Ceremony followed by Flag lowering ceremony held at Indo-Pak international border.
All the fishermen crossed over to India on the basis of 'Emergency Travel Certificate' issued by the Islamabad-based Indian High Commission.
The fishermen had slipped to Pakistan through Arabian Sea during fishing where they were held by the Pakistani coast guards for illegal fishing.
Fishermen crossed over to Indian Territory through the land transit route of International Attari-Wagah border.
Immediate after the repatriation, the medical examination of all prisoners was conducted by the team of Indian doctors.
The moment group of Indian fishermen crossed over to India, they humbly bowed down their forehead, paid obeisance to Indian soil and kissed it with passion.
At that time many fishermen were seen with wet eyes.
Earlier the freed prisoners were brought from Karachi to Wagah border in Lahore from where they were handed over to Indian authorities at Attari Border.
Released fishermen said it was very difficult to identify the territorial water during fishing in the Arabian Sea which always put the Indian fishermen in deep trap when they reach on Pakistan and face arrest for illegal fishing.
After repatriation now Indian fishermen would not be able to rejoin their profession of fishing once again, since their costly boats was still in the possession of the Pakistan government.
The fishermen claimed that the cost of the one boat varied from Rs three lakh to 10 lakh depending upon the quality and size of the boat.
At the time of arrest Pakistan government had captured their boats.