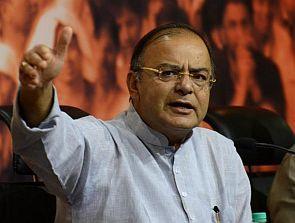 Terming as "deliberate" the repeated ceasefire violations on the Line of Control and International Border, Defence Minister Arun Jaitley has said Pakistan and "powers within" it clearly do not want ties with India to be normal.
"It is clear that there is deliberate ceasefire violation from Pakistan side. Earlier, it was only on the Line of Control but now it is also on the international border," he told reporters after visiting forward areas of Punjab border with Pakistan.
There have been 11 ceasefire violations by Pakistani troops along LoC and IB in Jammu region only during the past 10 days.
"It is obvious that Pakistan and the powers within don't want the ties between the two countries to be normal," Jaitley said.
His remarks came as India called off the foreign secretary-level talks scheduled for August 25 saying Pakistan was interfering in India's internal affairs by holding talks with Kashmiri separatists and it was "unacceptable".
Jaitley said he visited the forward posts of the armed forces along the border and said, "our jawans are fully prepared to respond to any ceasefire violations by Pakistan."
In Amritsar for a day, he visited the Kasowal BN enclave in Dera Baba Nanak sector and interacted with Army and BSF jawans guarding the International Border.
Jaitley said he was given presentations by the forces and there was a need to "step up procurements" and the government has been speeding up the decisions in this regard in the last two-three months.