The SC also ordered the National Accountability Court to start a corruption case against Sharif, his sons -- Hussain and Hassan -- and daughter Maryam.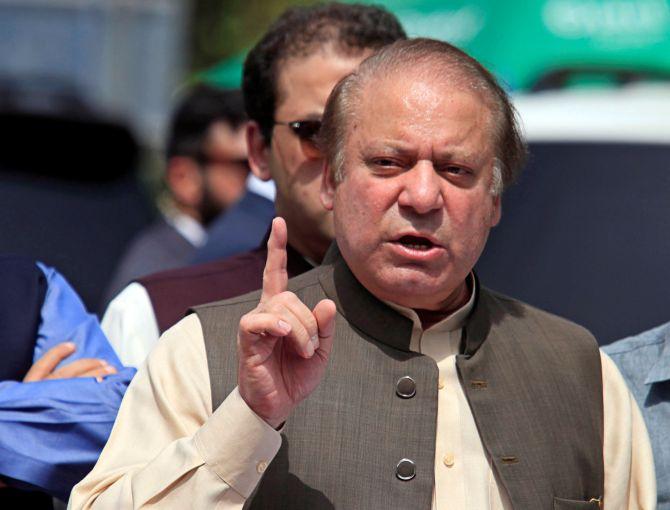 Nawaz Sharif on Friday resigned as Pakistan Prime Minister after the Supreme Court disqualified him from holding public office and ruled that graft cases be filed against the beleaguered leader and his children over the Panama Papers scandal.
It is the third time the 67-year-old veteran politician's term as premier has been cut short. The much-awaited verdict plunged Pakistan into a political crisis at a time when the country is facing a brittle economy and a surge in militancy.
As the unanimous verdict by the five-judge bench was read out by Justice Ejaz Afzal Khan inside the packed courtroom 1 of the Supreme Court, a large number of opposition Pakistan Tehreek-e-Insaf workers celebrated outside.
The court disqualified Sharif under Article 62 and 63 of the Constitution. The articles state that a member of Parliament should be 'truthful' and 'righteous'.
"He is disqualified as a member of the parliament so he has ceased to be holding the office of prime minister," Justice Khan said. The court ordered the Election Commission to issue a notification for Sharif's disqualification.
Following the court verdict, state-run PTV reported that Sharif had quit. It also reported that the government has accepted the verdict despite having serious reservations over it.
Another elected PM 'sent home: Maryam Nawaz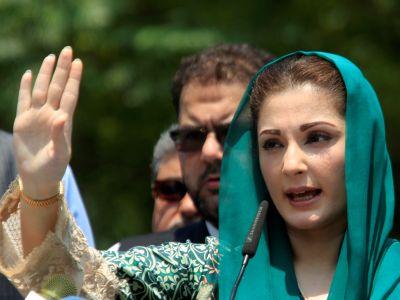 Another elected prime minister has been "sent home", Nawaz Sharif's daughter Maryam said on Friday but asserted that her father's disqualification by the Supreme Court would not deter him from staging a comeback.
In her first reaction to the verdict in the Panama Papers scandal, she tweeted: "Today will pave the way for Nawaz Sharif's resounding victory in 2018. He will be unstoppable. Insha'Allah. Rok sakte ho to rok lo (Stop him, if you can)!"
Maryam, 43, is seen by many as a political heir to the veteran politician and three-time premier of Pakistan.
She has vigorously defended Sharif during the probe.
"Another elected prime minister sent home, but only to see him return with greater force and support and soonest Insha'Allah," she said in another tweet.
When a follower tweeted her that the supporters of Sharif were disappointed, Maryam wrote back: "Kion ghum main hain (Why are they sad)? Not the first time your leader had to face ouster and trial. Every such act has made him stronger. History bears witness."
The Supreme Court also ordered the National Accountability Court to start a corruption case against Sharif, his sons -- Hussain and Hassan -- and his daughter Maryam.
The Supreme Court ordered that the cases against them be registered within six weeks and trial be completed within six months.
Finance Minister Ishaq Dar and Captain Muhammad Safdar, who is an Member of National Assembly (MNA), also stood disqualified from office, Radio Pakistan reported.
The Imran Khan-led Pakistan Tehreek-e-Insaf, in a swipe at Sharif, tweeted, 'Godfather's Rule has ended for good! Truth & Justice have prevailed!'
This is the third time the prime minister, known as the 'Lion of Punjab', has been unable to complete his term as premier. However, it was unclear as to who will take over the post till the next general elections, which are scheduled for 2018.
Former information minister Marryium Aurangzeb said that Sharif would make a comeback for the fourth time soon.
"We are disappointed by the court decision but in Pakistan's historical context it is not surprising," she said.
Aurangzeb said that Pakistan Muslim League-Nawaz is still the largest party of Pakistan and people have brought back Sharif with bigger majority whenever he was removed.
"There is no charge of corruption of public money against Sharif," she said.
She said the ruling PML-N would soon announce its future course of action.
The verdict means that yet another Pakistani premier has failed to complete a five-year term.
No Pakistani prime minister has ever completed a full five-year term with their tenures cut short by the military, the judiciary or they were ousted by their own party, forced to resign -- or assassinated.
It is the second time in Pakistan's 70-year history that the Supreme Court has disqualified a sitting prime minister.
In 2012, then-prime minister Yousaf Raza Gilani was disqualified over contempt of court charges for refusing to reopen a graft case against then president Asif Ali Zardari.
The Panama Papers scandal is about alleged money laundering by Sharif in 1990s, when he twice served as prime minister, to purchase assets in London. The assets surfaced when Panama Papers leak last year revealed that they were managed through offshore companies owned by Sharif's children.
The assets include four expensive flats in London.
Sharif has been the prime minister of Pakistan for a record three times. He leads Pakistan's most powerful political family and the ruling PML-N party.
A steel tycoon-cum-politician, Sharif had served as the Pakistan's prime minister for the first time from 1990 to 1993. His second term from 1997 was ended in 1999 by Army chief Pervez Musharraf in a bloodless coup.
In May, the Supreme Court set up a six-member joint investigation team (JIT) to investigate the charges against Sharif and his family.
The JIT submitted its report to the court on July 10.
It said the lifestyle of Sharif and his children were beyond their known sources of income, and recommended filing of a new corruption case against them.
Sharif dismissed the report as a 'bundle of baseless allegations' and refused to quit, despite demands to do so from several quarters, including opposition political parties.
On July 21, the court reserved its verdict after concluding the hearing.
The six-member JIT was set up with a mandate to probe the Sharif family for allegedly failing to provide the trail of money used to buy properties in London in the 1990s.
The top court took up the case in October last year on petitions filed by Pakistan Tehreek-e-Insaf, Awami Muslim League and Jamaat-e-Islami and reserved the verdict in February after conducting hearings on a daily basis.
The five-judge bench that issued Friday's verdict comprised -- Justices Asif Saeed Khosa, Khan, Gulzar Ahmed, Sheikh Azmat Saeed and Ijazul Ahsan.
The court took up the case on November 3 last year and held 35 hearings spanning over more than 132 hours before concluding the proceedings on February 23. It had issued the 547-pages split judgement on April 20.
Chronology of Panama Papers scandal in Pakistan
April 4, 2016: The International Consortium of Investigative Journalism publishes the Panama Papers, exposing tax evasion by the world's elite through off-shore accounts and shell companies. The documents include names of Sharif's family.
April 5: Sharif sets up a judicial committee to investigate the allegations, denies charges.
April 26: Opposition parties reject the judicial commission set up by the government.
November 1: The Supreme Court decides to pursue a case related to Nawaz Sharif.
November 7: PML-N submits Qatari prince's letter to the Supreme Court containing information about the London flats that were at the centre of the Panama Papers scandal.
January 6, 2017: Sharif's daughter Maryam Nawaz submits details of assets after the Supreme Court resumes hearing.
April 20: SC orders formation of a JIT with a split 3-2 verdict to probe the corruption charges against Sharif.
May 5: SC formally constitutes the JIT.
May 22: The JIT presents its first bi-weekly report to the SC in two volumes.
May 24: The JIT sends questionnaires to Sharif and his two sons - Hussain and Hassan.
May 28: Sharif's elder son, Hussain, appears before the JIT, claims it did not provide him any questionnaire.
May 30: Hussain appears before JIT for the second time.
June 13: The JIT submits report to the SC on obstructions to its work, blames government institutions for 'creating impediments in the collection of evidence'.
June 15: Sharif appears before the JIT for questioning, becoming the first sitting Pakistan prime minister to appear before any investigating agency.
June 17: Sharif's younger brother and Chief Minister of Punjab Shahbaz Sharif questioned by JIT.
July 5: Sharif's daughter Maryam appears before JIT.
July 7: Former Qatari premier Sheikh Hamad bin Jassim bin Jaber Al-Thani sends a letter to the JIT, asking it to record his statement at his palace before submitting its final report to the SC.
July 8: PML-N says will reject any JIT report without Qatari ex-premier's statement.
July 10: The JIT submits final report to the SC.
July 21: The three-judge bench Supreme Court bench hearing the case reserves decision.
July 28, 2017: The five-member SC bench unanimously rules against Sharif, disqualifying him from the office.
Photograph: Faisal Mahmood/Reuters