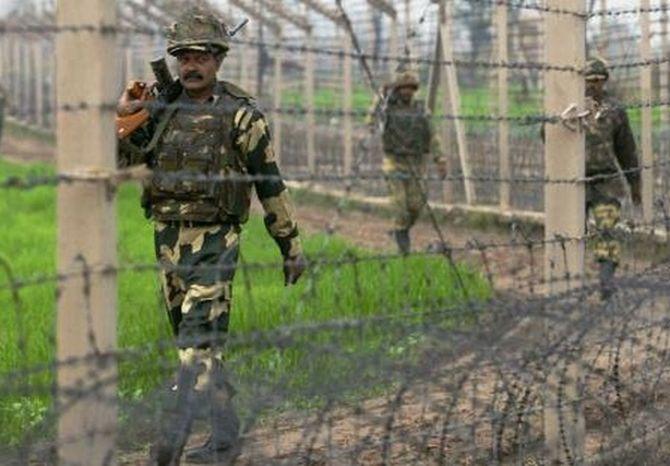 Pakistan on Thursday accused India of violating the ceasefire along the Line of Control and said a man was killed and three others were injured in the alleged firing.
Foreign Office spokesperson Nafees Zakaria tweeted that India violated the ceasefire agreement in Tandar, Sabzkot, Khuiratta, Baron, Bagsar and Khanjar areas early on Thursday.
India's Deputy High Commissioner in Islamabad J P Singh was also summoned over the alleged firing incident.
'The Director General (SA & SAARC), Mohammad Faisal, summoned the Indian Deputy High Commissioner, J P Singh and condemned the unprovoked ceasefire violation by the Indian occupation forces on the night of 10th and 11th May,' a statement by the Foreign Office said.
It said the 'deliberate targeting' of civilians is contrary to human dignity and international human rights and humanitarian laws.
'The director general urged the Indian side to respect the 2003 ceasefire understanding; investigate this and other incidents of ceasefire violations; instruct the Indian forces to respect the ceasefire, in letter and spirit and maintain peace on the LoC,' it said.
An official at the Indian High Commission in Islamabad said Singh conveyed to Faisal that the 'cross-border firing was initiated by Pakistani troops to give cover to terrorists' and 'Indian troops responded only in self-defence'.
'We have noticed increased movement of terrorists along the LoC,' the official quoted Singh as saying.
Senior Superintendent of Police (SSP) of Kotli, a town in Pakistan-occupied Kashmir, Chaudhry Zulqarnain Sarfraz, said that shelling allegedly by the Indian Border Security Force killed one and injured two others in Sabzkot, Dawn reported.
"A mortar shell pierced through the concrete roof of one house in Sabzkot village at about 2 am, killing one and injuring two others while they were asleep," Sarfraz said.
Sabzkot village is located closest to the Charhoi sector in Kotli district.
The deceased was identified as Rizwan, 18, and the injured were his 14-year-old sibling Kamran and 80-year old grandmother Wilayat Begum.
They were rushed to district headquarters hospital in the neighbouring Mirpur district, the SSP said.
He said another person -- Raja Aziz, 75 -- was injured in the Tayin village of Khuiratta sector, also in Kotli district.
The SSP said there had been intense shelling through the night, but the intensity receded in the morning.
Four persons from the same family were injured last week in Nakyal sector of Kotli district after a shell hit their house in the Dharoti Mohra village.
India and Pakistan often trade fire along the LoC, resulting in deaths and injuries on either side of the border. The intensity has increased in recent months as tensions have run high between the two sides on a number of issues, most recently over the death sentence given to an Indian national on spying charges by Pakistani military court.