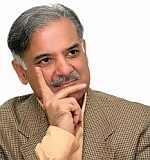 Two Pakistani men have formally objected to Pakistan Muslim League-N leader Shahbaz Sharif's candidature in the May 11 polls on the ground that he does not have a beard, which they contended is the mark of a good Muslim.
Babar Amin and Saeed Iqtidar challenged the nomination papers filed by Sharif to contest polls from two constituencies of the Punjab assembly in Lahore. They told returning officers that all the prophets of Allah had sported a beard but Sharif, the younger brother of former premier and PML-N chief Nawaz Sharif, did not follow Islamic teachings despite being a Muslim.
They further claimed that Sharif had failed to deliver on promises made to the people of Punjab while serving as Chief Minister of the province for the past five years. "He does not fulfill the criteria for becoming a member of the legislature as laid down in Articles 62 and 63 of the Constitution," Amin told reporters.
The men alleged that Sharif had concealed his assets and details of bank loans.
Sharif had mentioned "politics" as his occupation in his nomination papers, whereas politics was not a profession but a service to the nation, the men claimed.
The men asked the returning officers to reject Sharif's nomination papers, as he was a "dishonest person". The returning officers asked Sharif to file a response to the objections by April 6.