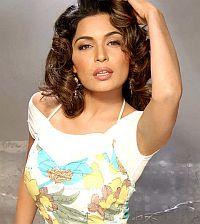 Film actress Meera, who has appeared in two Indian movies, is expected to contest against cricketer-turned-politician Imran Khan during Pakistan's upcoming general election on May 11.
Meera's mother Shafqat Zohra told media persons on Saturday that her daughter may contest against Khan, the head of the Pakistan Tehrik-e-Insaf party, from a parliamentary seat in Lahore that includes the posh areas of Gulberg, ModelTown, GardenTown and FaisalTown.
"Meera has applied for a PML-N ticket for National Assembly seat 126. If the leadership obliges her, then there will be an interesting contest between the two celebrities," Zohra said.
Earlier, Meera had shown interest in acquiring a PML-N ticket for a seat reserved for women.
There has been pressure on Khan from workers of his party to contest against PML-N chief Nawaz Sharif.
Sharif is expected to contest from a seat in his hometown and Khan apparently decided not to take any chances in the PML-N leader's stronghold.
"Imran Khan has a following in National Assembly seat 126 and therefore he has decided to contest from there," a Pakistan Tehrik-e-Insaf leader said.