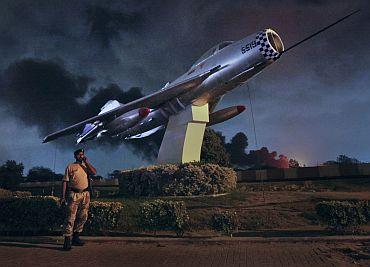 A major terrorist attack on the Pakistan naval dockyard in Karachi was foiled by security forces who killed two militants and captured four others, a top naval official said on Monday.
One naval officer was also killed and seven others injured in the attack that took place on Saturday, a spokesman for the Pakistan navy said on Monday. The attack was, however, foiled by security forces who killed two terrorists and captured four others, he said.
The spokesman said news of the attack was kept under wraps because of strategic requirements. Operations are being carried out to capture more terrorists, the spokesman told Dawn news channel.
The spokesman only confirmed the incident after Geo News channel reported that an attack took place on Saturday morning but the Pakistan navy had kept the incident a secret. According to Geo News, two naval officers at the naval dockyard were involved in aiding the terrorists whose number is yet to be confirmed.
But a security source confirmed that the target of the attackers were Pakistan naval ships in the dockyard which is located in West Wharf. On June 8, ten terrorists stormed the old Karachi airport terminal building in which at least 29 people were killed apart from the attackers.
Image for representation only.