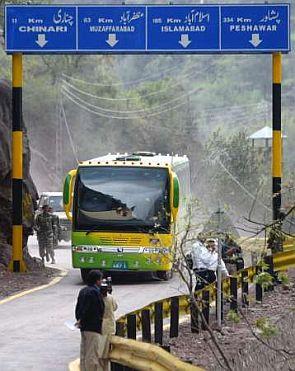 India on Tuesday summoned Pakistan Acting High Commissioner Mansoor Ahmad in connection with the suspension of Srinagar-Muzaffarabad and Rawalakot-Poonch bus services by Pakistan, which has demanded release of its national arrested for smuggling narcotics worth Rs 100 crore across the LoC.
Pakistan authorities manning the Kaman post on the LoC had refused to send back Indian trucks carrying cross LoC trade consignments after Indian authorities impounded a truck coming from PoK and arrested its driver for carrying narcotics destined for an Indian national.
Subsequently, the Pakistan authorities also indicated on Monday that they would not allow the Srinagar-Muzzaffarabad and Poonch-Rawalakote bus services to run their regular services till the impounded truck and arrested driver were released.
The MEA's spokesperson told the media, "While the two foreign ministries are working towards resolving the matter through diplomatic channels it is indeed surprising that Pakistan chose to hold hostage trans-LoC trade and travel bringing immense humanitarian benefits to the people of Jammu and Kashmir, for the sake of persons indulging in drug trafficking."