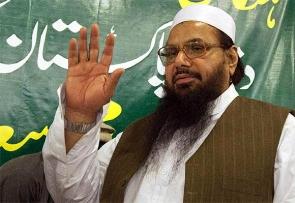 The government of Pakistan's Punjab province has justified its allocation of over Rs 61 million to the largest centre of the Jamaat-ud-Dawah, saying the funds are needed to continue the services being provided to people by the facility.
A spokesman of the Punjab government said the Punjab government had taken "administrative control of the welfare institutions being run by (the JuD) in compliance with the security council resolutions of the United Nations".
"There were two purposes behind taking control of these institutions: one, no one from the (JuD) could continue its activities, and two, to ensure that local people might not be deprived of the facilities like dispensary, hospital and schools etc," the spokesman said in a statement.
The spokesman further said the Punjab government had appointed an official as an administrator to "ensure the provision of basic facilities to the local people".
The Punjab government has been making these arrangements for these institutions since the end of 2008, he said.
The Pakistan Muslim League-N government in Punjab announced a grant-in-aid of Rs 61.35 million for the administrator of the JuD's Markaz-e-Taiba at Muridkey in its budget for fiscal 2013-14. The allocation is listed on page 31 of the Punjab government's annual budget statement that has also been posted online. The budget also includes another allocation of Rs 350 million for a knowledge park at Muridkey and various other development initiatives across Punjab.
The spokesman clarified that the proposed knowledge park spread over 88 kanals has "nothing to do" with the JuD. "The proposed knowledge park has been planned as an independent developmental initiative and has no relevance with the (JuD)," he said.
Though the spokesman referred to the JuD as a "banned organisation", an assistant advocate general of the Punjab government told the Lahore high court as far back as October 2009 that there was no notification to establish that the JuD was a banned group. He said the JuD was put under some restrictions after the United Nations Security Council passed a resolution but the organisation was not on the list of proscribed groups.
A recent report in the Pakistani daily The News said that the entrance of the Markaz-e-Taiba in Muridkey is still guarded by stick-wielding activists of the JuD. Sources told PTI that the Markaz-e-Taiba is practically in the control of the JuD despite the appointment of an administrator.
Even Pakistani or foreign journalists cannot go inside the centre with taking permission from the media cell of the JuD. The sources said a few months ago, JuD chief Hafiz Mohammad Saeed held a convention at Markaz-e-Taiba that was largely attended by JuD activists.