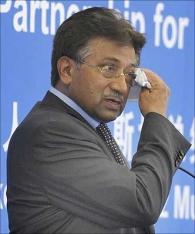 A Pakistani court on Wednesday suspended the non-bailable arrest warrant against former military dictator Pervez Musharraf for the killing of cleric Abdul Rashid Ghazi during the army siege of the Lal Masjid in 2007.
The arrest warrant was challenged in the high court in Islamabad which set aside the orders of the lower court on assurance by Musharraf's lawyer that he would attend the next hearing.
The district and sessions court in Islamabad last week issued his arrest warrant in the case of Ghazi who was killed when the army stormed the mosque here to flush out militants.
The Islamabad high court adjourned the hearing till April 27 and ordered 71-year-old Musharraf to appear in person. The former military ruler was booked in the murder case in 2013.
Separately, a medical report of Musharraf was presented in an anti-terrorism court in Quetta hearing a case against him for alleged involvement in the killing of Baloch tribal leader Akbar Khan Bugti in a military operation in 2006.
Musharraf, who was president at the time, had ordered the operation that killed Bugti.
The Sindh government had formed a medical team on the directives of the court after Musharraf failed to appear due to health reasons. A nine-member medical team conducted a medical checkup of Musharraf on April 1.
Balochistan's Director General of Health Dr Farooq Azam presented an eight-page report on the health of Musharraf before judge Aftab Ahmed Lone. According to the report, the former president is suffering from backache, neurological and cardiac problems.
The court accepted a day's exemption regarding the appearance of the former military ruler. The hearing was adjourned until April 22.
The ex-army chief is facing a slew of court cases after returning from five years of self-exile in Dubai to contest the general elections in 2013 which he lost. Musharraf is already facing murder charges in the case of former premier Benazir Bhutto who was assassinated in 2007. He is out on bail in the case.
He was also indicted in a high treason case in March last year for suspending, subverting and abrogating the Constitution and imposing an emergency in Pakistan in November 2007, the first army chief to face such a prosecution. He has also been charged in the judges' detention case.
Musharraf came to power in a bloodless coup in 1999, deposing then-prime minister Nawaz Sharif. Facing impeachment following elections in 2008, Musharraf resigned as president and went into self-imposed exile in Dubai.