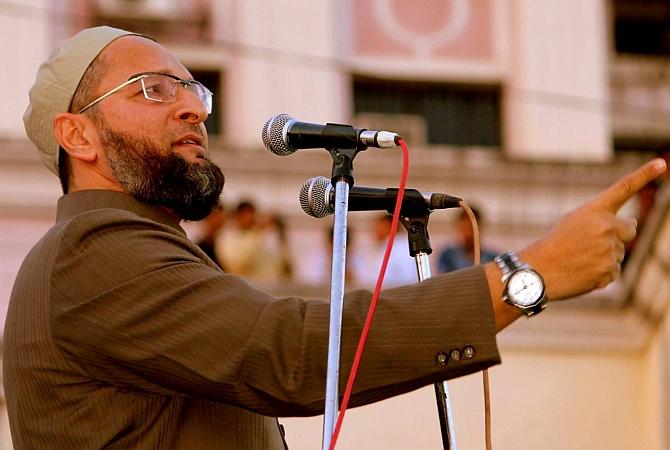 All India Majlis-e-Ittehadul Muslimeen president Asaduddin Owaisi has reportedly received a threat from the Islamic State on a social networking site for speaking against the terror outfit, but the Hyderabad MP trashed it saying he would not be cowed down by it.
It was reportedly written on Owaisi's Twitter wall that 'it's better for you to shut your mouth on Islamic State if you don't know the truth. Islamic State will invade India soon (sic).'
However, the tweet has since been deleted.
"If someone tells us on Twitter that we will invade India...We will give an answer to it. India is our motherland and we will give a reply to such nonsense," Owaisi told reporters here on Thursday.
He said the IS had nothing to do with Islam as it indulges in violence, including against Muslims.
"The thinking of Islamic State is in itself an evil mindset and it has nothing to do with Islam," he said.
Rubbishing the reported threats, he said, "We don't know in what corner of the world this person is sitting like a rat and speaking from there."
Asserting that the MIM is against those against India, he said his party has been speaking against the IS for the last three years.
Many scholars in the country have spoken against the terror outfit and condemned its actions, he said, adding he doesn't fear such threats.
"This is such an ideology that needs to be ended. This ideology is based on enmity. Muslims of the whole world are against them. Big scholars have given 'fatwas' against them," he said.