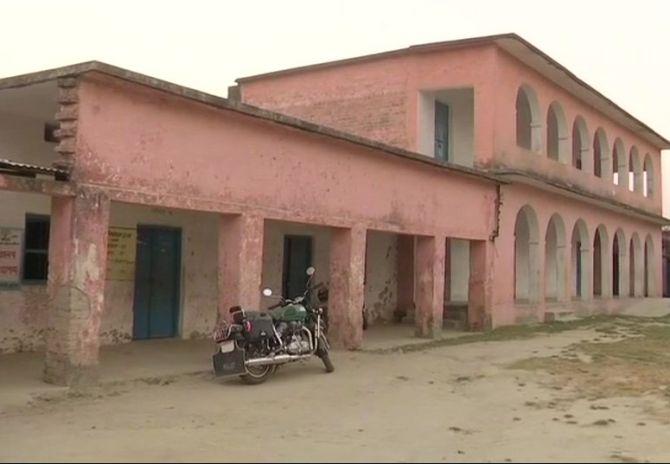 At least 30 schoolgirls of a government school in Supaul district of Bihar were injured in an assault by a mob on Sunday for allegedly resisting sexual advances. They've been admitted to a hospital.
The injured girls are students of Kasturba Gandhi Balika Vidyalaya in Triveniganj block of the district, a residential school for girls.
Triveniganj sub-divisional magistrate said a first information report has been registered and the accused will be arrested soon.
"Action will be taken against school after reports come," the SDM said.
Triveniganj assistant superintendent of police said that a team of station house officers of four police stations have been formed to conduct raids.
"We have talked to the hospital, they say that the injured are stable," he said.
According to inspector general, Darbhanga Zone, the girls used go to a nearby playground where some boys used to write obscene words on walls.
"The girls would erase it every time. This was happening since 2-4 days. Yesterday, they (the girls) asked a boy Mohan to stop doing that.
"Upon hearing this, Mohan, his mother and some other women beat them up. 14 children are still at hospital.
"The people involved in the incident have been identified and an FIR has been registered. The culprits will soon be arrested," the IG said.
Meanwhile, opposition leader Tejashwi Yadav criticised the government and the chief minister over the incident.
In a series of tweets, Tejashwi said Chief Minister Nitish Kumar has 'totally surrendered himself in the hands of goons & Deputy CM is begging mercy to hardened criminals'.
In response to a tweet on the matter, Tejashwi said, 'Because CM personally interferes to ensure that rapists and perpetrators gets a free run.
'In majority cases his party men, law makers and office bearers are the main culprits. If an honest officer tries to catch hold of them, He/she is transferred immediately.'
With inputs from ANI