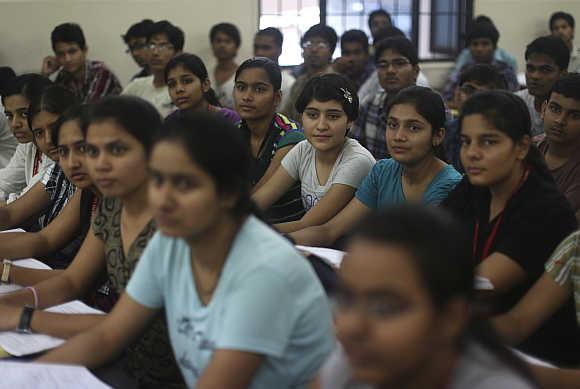 Over 4,400 students dropped out of IITs and NITs in the last three years due to various reasons including "academic stress", the government said on Wednesday and assured that corrective actions have been initiated.
As many as 2,060 students dropped out from various Indian Institutes of Technology from 2012-13 to 2014-15, Human Resource Development Minister Smriti Irani informed the Lok Sabha during Question Hour.
During this three-year period, 2,352 students dropped out from the National Institutes of Technology.
"The reasons for dropouts may be attributed to shifting to other colleges/institutions, personal reasons, medical reasons, getting jobs during PG courses, inability to cope with academic stress etc," Irani said in a written reply.
In 2014-15, IITs witnessed 757 dropouts which was higher than 697 dropouts (2013-14) and 606 (2012-13). During this period, IIT Roorkee saw the highest number of dropouts at 228, followed by IIT Kharagpur (209) and IIT Delhi (169).
Interestingly, there were no dropouts at IITs in Mandi, Jodhpur, Kanpur, Madras and Ropar during 2014-15 period.
There are 16 IITs and 30 NITs in the country.
Of the NITs, there were 717 dropouts in 2014-15, lower than 785 seen in the year-ago period. In 2012-13, the dropout numbers stood at 850.
Irani said there is a mechanism for helping students who are under stress. The government is committed to address issues related to academic stress, she added.
Listing out various initiatives that are in place to minimise dropouts at IITs, Irani said there is a guidance and counselling unit, headed by a faculty member. It works closely along with a number of faculty counsellors and advisors to
"identify students facing emotional difficulties and guide them to professional counsellors for help".
Interestingly, while responding to a supplementary query on whether academic pressure is causing suicide by IIT students, Irani asserted this was "incorrect".
Referring to the member, the minister said his indication that "children in the IIT ecosystem and IIT family are committing suicides because they are unable to keep up with the pressure that the academic environment in the IIT has, is incorrect".
Irani also assured that any challenge that IIT students present to the faculty within the IIT ecosystem would be met in a supportive fashion.
To another query, she said, "I had said that I contest the fact that there is no mechanism available within the IITs
to address issues with regard to either academic stress" or that more problems are faced by children from weaker segments
of society.
"I would like to firmly state here with all humility that to say that students do not take stress is not a statement that I made. I said that we have provided a mechanism that a student under stress within this eco system can approach and seek help and guidance from," Irani noted.
She was responding to AIADMK member M Thambidurai, also the Deputy Speaker, who asked the Minister about the anomaly in the written and oral responses.
To a query about IIT Roorkee expelling 73 students last month for less academic scores, Irani said the IIT's action was challenged in court. The court had upheld IITs' right to ensure that academic performance, that the students themselves gave an undertaking to uphold, was met.
"IIT, Roorkee undertook an initiative to take these students back only if they yet again fulfill those academic standards that they gave an undertaking when they entered into the system," she noted.
AIADMK member P Sundaram asked her about the issue at IIT, Chennai where students were apparently prevented from enriching their knowledge through forums like Periyar-Ambedkar Study Circle.
In response, Irani said in the case of IIT Chennai, it is the institution, the Academic Executive Council and the Students Council which has elected representatives of student bodies within the institution, that set benchmarks for activities undertaken by any individual within that campus.