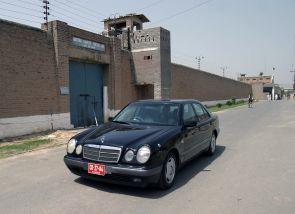 Baliram Thakur, 72, and Shila Devi, 62, residents of a village in Bihar's Sitamarhi district, are extremely worried these days following the brutal killing of Indian prisoner Sarabjit Singh in a Pakistan jail.
Their son Ranjit Singh Thakur is lodged in Lahore's Kot Lakhpat jail for 12 years -- the same prison where Sarabjit was attacked by fellow inmates.
"We have demanded that the government of India immediately initiate action to bring our son back. We fear that Ranjit might also meet the same fate as Sarabit if there is further delay in his case," Baliram told Rediff.com from Manoharwa village in Sitamarhi district.
Ranjit's mother Shiela said that they had written many letters -- both to prime ministers and chief ministers -- appealing them for intervention in their son's case, but nothing has happened so far.
"The government should take action to help us reunite with our son," she added.

According to them, a letter from the Lahore jail mentioned their son's name as Raju Babu Sahay, but after seeing the photograph they identified him and sought to clarify that his name was Ranjit Kumar Thakur.
Baliram recalled that his son had gone to Delhi 12 years back to earn a livelihood. After some years there was no trace of him. But last year the local police station informed them that Ranjit was in a jail in Lahore.
The parents are still clueless about the charges under which their son has been imprisoned.

Sheila said that she has been constantly praying for the return of their son. "We have offered rituals and conducted special a puja for his return," she added.
Image: A car carrying Indian diplomats arrives at Lahore's Kot Lakhpat Jail. Photograph: Mohsin Raza/Reuters