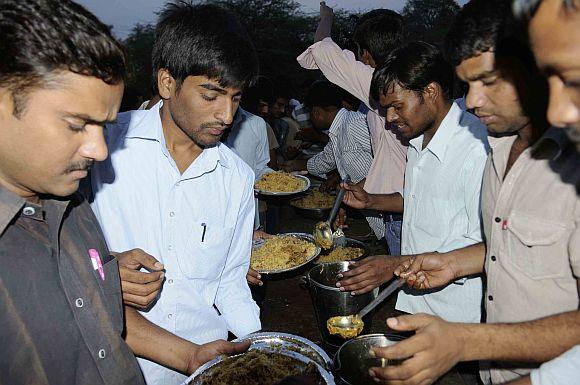 A showdown appears to be on cards on Thursday with the defiant students' group deciding to go ahead with its plan to conduct a 'Beef Festival' on December 10 on Osmania University campus in Hyderabad despite university authorities' refusal of permission and a Bharatiya Janata Party legislator vowing to stop it.
The Hyderabad police also said that there is no question of allowing 'Beef Festival' on Osmania University campus.
Another group of students had announced plans to organise a 'Pork festival' on the campus on December 10.
"In fact, we did not apply for permission. Permission is not required for what we eat in our college and our hostel. We will definitely go ahead with the event," Shankar, an organiser of the 'Beef Festival', said.
Noting that Ganesh festival and 'Nagula Chavati' (a festival to worship the snake god) celebrations, among others, do take place on the campus, he asked how come these religious events are taking place in the university premises with people from outside coming in.
Meanwhile, BJP MLA Raja Singh, who had vowed to 'convert Hyderabad into Dadri' if the the 'Beef Festival' is held, said he would go ahead with his plan to stop the event.
"101 per cent, we will stop it, if they go ahead with the Beef Festival," Singh said.
He had earlier said a 'Gau puja' should also be allowed on December 10 if the 'Beef Festival' is permitted.
Raja Singh had also hit out at Telangana BJP president G Kishan Reddy for 'not speaking in favour of stopping the Beef Festival' and demanded his resignation, saying his action amounted to 'stunting the growth of BJP in Telangana'.
The organisers of the 'Beef Festival' had said that it was being planned as a means to 'save democratic principles' in the wake of alleged attempts to curb dietary habits of certain groups, coinciding with International Human Rights Day on December 10.
They said they have also complained to the State Human Rights Commission against Singh for his 'provocative comments'.
"Pork has been a nutritious food choice and 'pig-rearing provided livelihood to certain communities' in the country," said Solanki Srinivas, a leader of the students' group in the varsity planning to hold 'Pork Festival'.
Police, however, said it will not allow the events to be held on the university campus.
"It will not be allowed. We will make all security arrangements to ensure that peace and tranquillity prevails on the OU campus," deputy commissioner of police (East Zone) A Ravinder said.
"For conducting any programme on university campus, one has to approach the OU authorities and now that they have already denied permission to hold any kind of festivals (beef or any other kind), the question of our giving permission to them does not arise," he said.
OU authorities had said on Wednesday that the university has been established for the purpose of imparting higher education and conducting research in various disciplines.
"The primary objective of the university is purely academic and research oriented. It is, therefore, informed to all the concerned including the teachers, students and staff of the university that activities such as 'Beef Festival' and 'Gau Puja' which are unrelated to academics and research will not be permitted on the campus," they said.
Image used for representational purposes only.