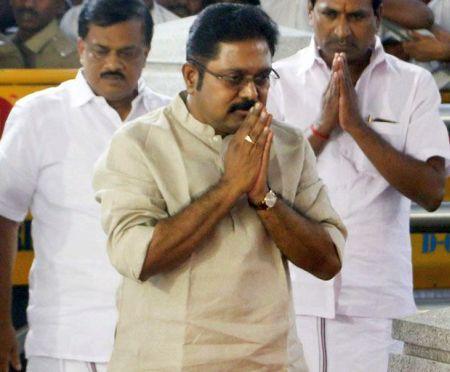 Amma Makkal Munnetra Kazhagam leader T T V Dinakaran on Saturday maintained that Tamil Nadu Deputy Chief Minister O Panneerselvam met him last year on his own volition and not on the former's invitation, a day after the ruling AIADMK rejected the charge.
Dinakaran had alleged on Friday that Panneerselvam met him in July last year and wanted to meet him again in September-end this year in a bid to "oust" Chief Minister M Palaniswami. He also claimed that Panneerselvam offered to make him the chief minister.
"If Panneerselvam indeed waged a 'dharmayudham' (battle for justice) against our family, as he claims, then why did he meet me secretly?" Dinakaran asked.
"Only he wanted to meet me. It is wrong to say that I wanted to meet him," he told reporters after meeting his aunt and deposed AIADMK general secretary V K Sasikala at the Parappana Agrahara prison.
Recalling Panneerselvam's vote against the Palaniswami government in the last year's no-confidence motion, Dinakaran said the deputy chief minister has a "tendency to betray".
"All he wants is to become the chief minister," Dinakaran reiterated.
On Friday, Dinakaran said Panneerselvam wanted to meet him as he regretted revolting against Sasikala and subsequent criticism against the family.
He said he was revealing the information now since Panneerselvam was being critical of him in public even while "trying for a rapprochement".
However, Panneerselvam has denied Dinakaran's accusation that he wanted to dethrone Palaniswami and take over as chief minister, saying he has held the office thrice and was content.
Asked if Sasikala was aware of these developments, Dinakaran said she told him that she saw it all on television and "laughed".
Responding to a question about joining forces with Palaniswami, Pannerselvam and some other AIADMK leaders, who have been critical of him, Dinakaran said it would mean attempting suicide.
Meanwhile, BJP state unit president Tamilisai Soundararajan claimed some AMMK leaders had sent messages to meet leaders of the saffron party.
"Many days ago, those (leaders) from Dinakaran's party had sent messages saying they wanted to meet our party members," she told reporters in Chennai when asked about the war of words between the AMMK leader and Panneerselvam.
Dinakaran made light of Soundararajan's claim and asked her to reveal the names of those who sent the messages.
"You should say who sent out the messages, whether it is Dinakaran or someone else and if so, then on which date," he said.
"This (claim) is only to create a doubt. I have told clearly that I cannot go with BJP as we have different ideologies," he said.