'When someone gives you one kilo of gold you have some obligations to them.'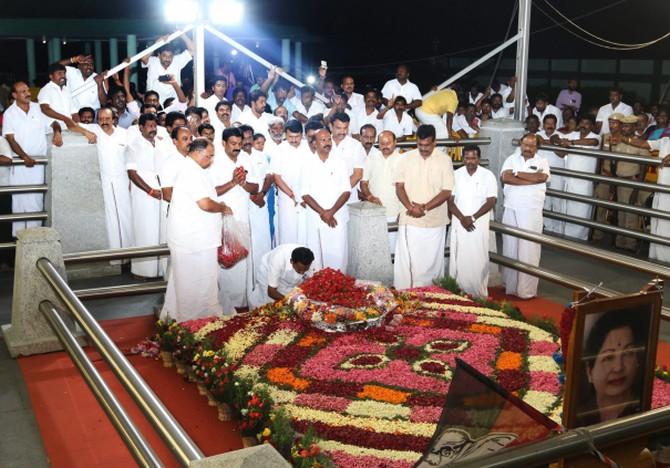 IMAGE: AIADMK MLAs from the T T V Dinakaran group at the memorial for the late Tamil Nadu chief minister J Jayalalithaa at Marina beach, Chennai, on the night of August 21, 2017. Photograph: PTI Photo
R Nataraj is the All India Anna Dravida Munnetra Kazhagam MLA from Mylapore, a former director general of police who doesn't hesitate to call a spade a spade.
When the AIADMK broke up following then chief minister J Jayalalithaa's death last December, Nataraj chose to side with the O Panneerselvam faction and remained steadfast through the last six months.
Now with the unified party, Nataraj spoke to Rediff.com's A Ganesh Nadar about AIADMK Deputy General Secretary T T V Dinakaran's faction, members of which on Tuesday, August 22, met Governor Ch Vidyasagar Rao to protest against the merger, and what the future holds.
What do you have to say about the T T V Dinakaran group's meeting with the governor?
I really don't know what he is doing and why he is doing this.
He is the one who said both factions should come together and now that we are together, he is making other demands.
Will your party push to disqualify the 19 rebel MLAs from his group under the anti-defection law?
No! We will not do anything drastic like that.
When the body has some problems, you vomit. That is what is happening now.
We are vomiting all the poison out.
Once that comes out, then the body, in this case the party, will be alright.
Are you serious about expelling Dinakaran and his aunt V K Sasikala from the AIADMK?
You see, first we will have to call a general council meeting and then expel them.
Second, they can challenge the calling of the general council saying I am the general secretary and only I can call a meeting and so the meeting is illegal.
They will go to court and this will drag on.
We will have to find a more amicable way.
Why do you think these 19 MLAs have reacted like this?
Let me tell you that before they went to Koovathur (MLAs from the Sasikala faction stayed at a resort in Koovathur in February to prevent poaching by the OPS camp) they dressed up normally.
After they came back from Koovathur most of them are wearing a lot of gold.
When someone gives you one kilo of gold, you have some obligations to them.
Once they get over that, they will come back to normal.
But the government buys liquor from Sasikala's liquor companies. Will you stop that too?
They have many businesses in Tamil Nadu.
Liqour is the cash cow. If they actually want to sever all ties with her, they can do that too.
The government can do many things. They will think and do what is necessary.