Nathuram Godse, the man who assassinated Mahatma Gandhi, was a deshbhakt (patriot), Bharatiya Janata Party's Lok Sabha candidate from Bhopal Pragya Singh Thakur said on Thursday setting up another controversy.
Opposition leaders condemned her remarks and attacked the BJP.
Here are some of the reactions.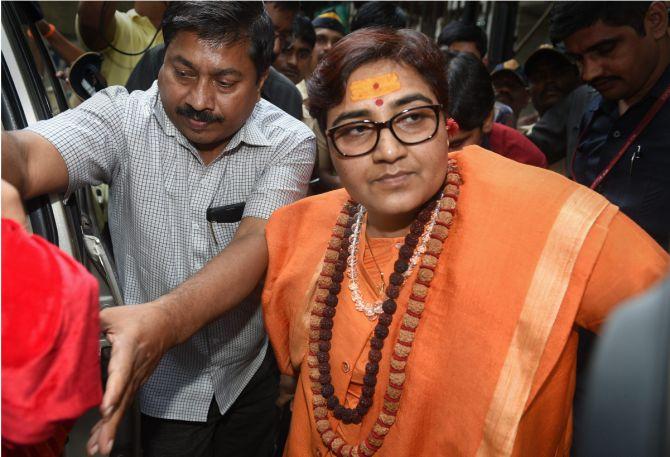 Narendra Modi ji, Amit Shah ji and BJP leaders from Madhya Pradesh should apologise to the country. I condemn the words used against the Father of the Nation. Nathuram Godse was a killer and eulogising him is not patriotism, but an anti-national act.
Digvijaya Singh, Congress LS candidate from Bhopal
It is clear, the BJP people are the descendants of Godse. BJP people say Godse was a patriot and martyr Hemant Karkare was a traitor. Culture of violence and insulting martyrs is the DNA of the BJP. Modi-Amit Shah ji's favourite BJP leader, Pragya Thakur once again insulted the whole nation by calling Gandhi's killer, Nathuram Godse 'a true patriot'
Randeep Surjewala, Congress' chief spokesperson
We completely disagree with her statement with regard to Mahatma Gandhi. We strongly condemn this statement. The party will seek clarification from her as to why she gave this. It would be proper for her to seek and tender a public apology for her objectionable statement
G V L Narasimha Rao, BJP spokesperson
Remember, Narendra Modi has defended and endorsed Pragya's candidature. This is not a 'lunatic fringe' & is definitely not her "personal opinion", it is the BJP standing by Independent India's first terrorist. In few years, Sri Sri Godse will also be recommended with a Bharat Ratna
Asaduddin Owaisi, All India Majlis-e-Ittehadul Muslimeen chief
Nathuram Godse, who has murdered Mahatma Gandhi, is being defended by BJP's candidate Pragya Thakur and is being called a patriot. People can now see @BJP4India 's real face through.@SadhviPragya_MP
Jayant Patil, Maharashtra NCP chief
If the killer of the father of the nation is a patriot does that make Mahatma Gandhi anti-national?
Omar Abdullah, National Conference leader
The truth about where RSS-BJP stands on terror gets clearer all the time. A senior minister in (Prime Minister Narendra) Modi's Cabinet said Godse was not a terrorist, now terror-accused Pragya Thakur calls the murderer of Gandhi ji a 'desh bhakt'. The BJP remains inspired by the killers of the Mahatma
Sitaram Yechury, Communist Party of India-Marxist general secretary
Gandhi ji certainly didn't die to let history repeat itself. The BJP should be ashamed for endorsing a candidate who praised Bapu's assassin. He (Godse) was a terrorist & those who admire him are nothing else but Nathuram Godse 2.0 in the making. I take pride in being called an anti-national when a Hindu fanatic who gunned down Gandhi ji is hailed as a nationalist. Aisi nationalism aur desh bhakti humaray bas ki naheen. Yeh aapko mubarak ( I am not capable of such nationalism. You. May keep it)
Mehbooba Mufti, Mehbooba Mufti