Prime Minister Narendra Modi on Sunday launched a blistering attack on the Congress-led opposition accusing it of focusing solely on trying to 'finish' him off while he is working to quell terrorism, ensure national security, eradicate poverty and corruption, and generate employment.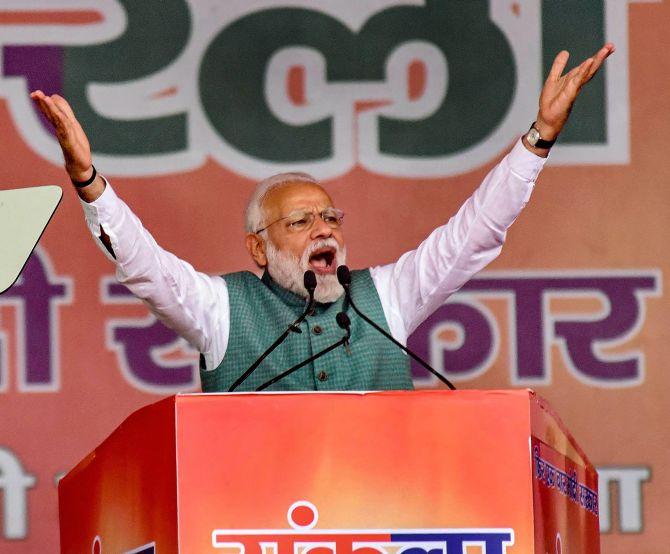 Addressing a National Democratic Alliance rally in Patna in the presence of his Bihar allies -- including Chief Minister Nitish Kumar and Union minister Ram Vilas Paswan -- Modi came down heavily on opposition for their scepticism over the surgical strikes by the Army post the Uri terror attack, and the air strikes in Balakot after the Pulwama suicide bombing.
"Is it appropriate for these parties to speak in a language that suits Pakistan? Leaders of the neighbouring country are using it as a shield to protect themselves against the charge of promoting terrorism. They are clapping gleefully," Modi said.
On Saturday, Senior Congress leader Digvijaya Singh had asked the Centre to present evidence of the air strike on terrorist camps in Balakot.
He had also 'congratulated' Pakistan Prime Minister Imran Khan for releasing IAF Wing Commander Abhinandan Varthaman.
Before that, West Bengal Chief Minister Mamata Banerjee had on February 28 said lives of jawans are much more valuable than electoral politics, but the nation has a right to know what actually happened at Balakot following the IAF's air strike.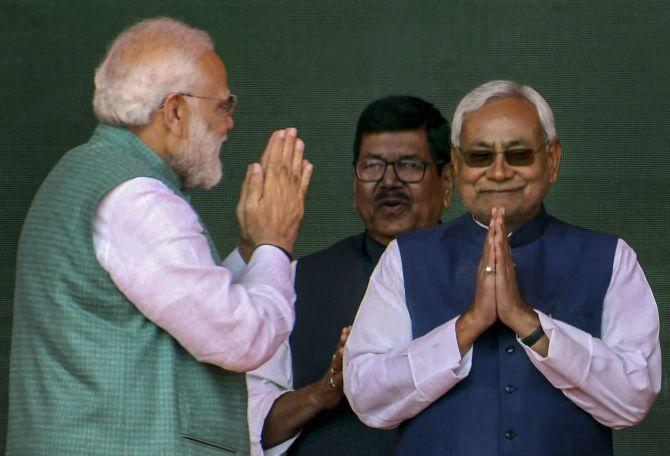 The PM alleged on Sunday the opposition parties were conspiring against him 'while I want to eliminate terror. They are conspiring to finish me off'.
"When the country needed to speak in one voice, 21 opposition parties gathered in Delhi to adopt a resolution condemning us. They are demanding proof from the armed forces for their act of bravery," he stated.
Without naming Congress chief Rahul Gandhi, who has coined the slogan 'chowkidar chor hai (the watchman is thief)', Modi said, "Those who run their political shops in the name of the poor and care for nothing except for their dynasties, are having problems with the chowkidar. But the chowkidar is alert and on the job."
Modi also took a veiled dig at jailed Rashtriya Janata Dal supremo Lalu Prasad, saying, "The people of Bihar have seen a lot in the name of purchase of fodder. Our government has worked for doing away with middlemen who siphon off public money. My heartiest congratulations to Nitish Kumar and (Deputy CM) Sushil Kumar Modi for pulling Bihar out of the dark times."
Addressing his first political rally with friend- turned-foe-turned-friend Nitish Kumar, the prime minister showered praise on the Bihar chief minister calling him 'hard working and sophisticated'.
"There seems to be a contest among the opposition parties led by the Congress for hurling abuse at the chowkidar. But the people of the country have made up their mind. They are going to punish these parties once again and teach them a few more lessons," Modi said.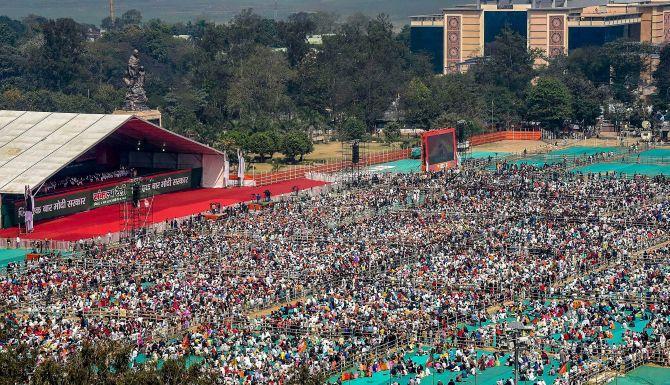 The prime minister also asserted that the Bharatiya Janata Party-led government at the Centre wants to ensure that all sections of the society gain access to the best of facilities.
The NDA government is working on all departments including roadways, railways and airways to improve infrastructure in Bihar, he said.
In an apparent repudiation of the allegation that the BJP was against Muslims, Modi spoke about India's rising stock in the eyes of Islamic countries which he said was reflected in the increased quota for Haj pilgrims and Saudi Arabia agreeing to free more than 800 migrants lodged in its jails.
He said the presence of External Affairs Minister Sushma Swaraj as the guest of honour at the recent Organization of Islamic Cooperation conference exemplified that.
"Such an honour was bestowed on India after five decades during which mostly the Congress and its allies were in power. Why the voice of India was not heard in Islamic nations during that period?" Modi asked.
Referring to the recent visit of Saudi Crown Prince Mohammed bin Salman, Modi said, "I told him that India has a burgeoning middle class and requested for increase in the Haj quota of the country. As a result, the quota has been increased to two lakh people. Such an increase has been made only in the case of India".
The PM also said he took up with the crown prince the issue of Indians languishing in Saudi Arabia prisons for minor offences just because they were not familiar with the law of that nation.
"He (Mohammed) sought a little time, and later in the evening at a dinner at the Rashtrapati Bhavan he asked me to have sweets. I wondered, why? He replied 'we have decided to release 850 Indians from jails'."
"My government is taking care of the concerns of every section of the society," Modi said.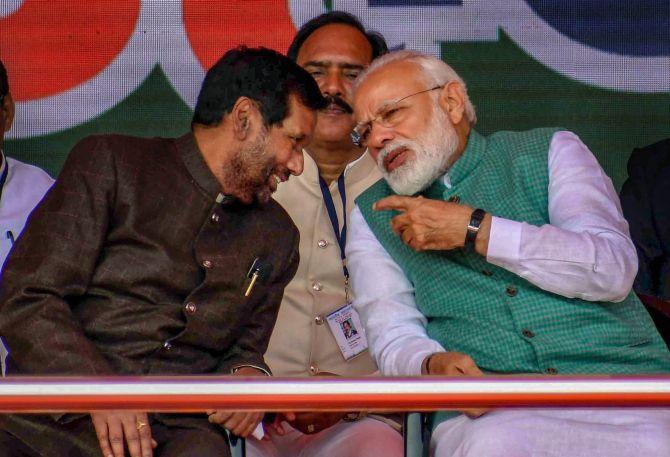 The PM sought to strike an emotional chord with the people of Bihar, paying tributes to the Central Reserve Police Force personnel from the state, who were killed in Pulwama terror attack and shelling by Pakistan army in Jammu and Kashmir.
He paid homage to CRPF Head constable Sanjay Kumar Sinha and Constable Ratan Kumar Thakur, both victims of the Pulwama attack, and Inspector Pintu Kumar Singh, who died in shelling at Handwara a couple of days ago.
In keeping with his style of making the people chant 'Bharat Mata Ki Jai' thrice with raised fists, Modi this time prefixed the evocation with phrases -- 'parakrami bharat ke liye (for the valiant India)', 'vijayi bharat ke liye (for a triumphant India)' and 'veer jawanon ke liye (for our brave soldiers)'.
Beginning his 40-minute-long speech with greetings in three local dialects Bhojpuri, Maithili and Magahi, Modi also remembered the state's legendary figures of the ancient, medieval and modern periods.
The prime minister mentioned Buddha, Chanakya, Emperor Ashoka, medieval era bard Vidyapati, 10th Sikh Guru Gobind Singh, the 1857 revolt hero Veer Kunwar Singh and Hindi poet Ramdhari Singh Dinkar, who is fondly called 'Rashtrakavi'.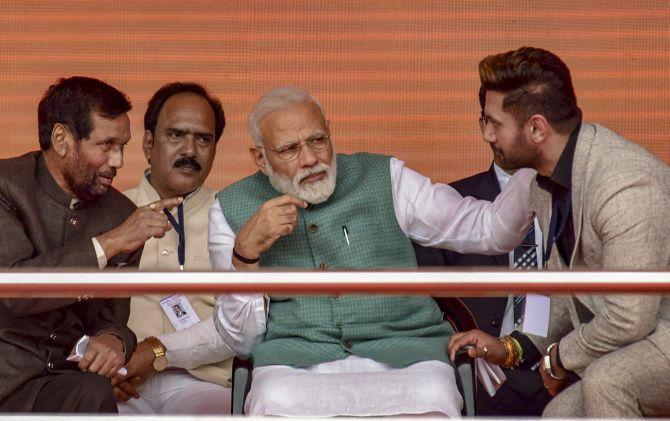 Modi also paid tributes to political figures like the state's first Chief Minister Shri Krishna Sinha and his deputy Anugraha Narayan Singh, Lok Nayak Jaya Prakash Narayan and OBC stalwart Karpoori Thakur, conveying his regard for them cutting across caste lines.
Modi also made a special mention of Sulabh International founder and Bihar native Bindeshwar Pathak, in recognition of his pioneering work in eradication of manual scavenging and improving public sanitation.
Indian Railways has made Pathak its brand ambassador under the Swachh Bharat Abhiyan.
When it began to drizzle a few minutes after he began his speech, he sought to perk up the restless crowds saying, "Here comes Lord Varuna with his blessings".
Lord Varuna is the god of rain in Hindu mythology.
Speaking before Modi, CM Nitish Kumar said, "People have turned up at the rally in very large numbers. The Lok Sabha polls are impending...I want to assure you 'Pradhan Mantri jee' (Prime Minister) that we will win 40 out of 40 Lok Sabha seats in Bihar in the general elections."
"This is our Sankalp (resolve)," Kumar said while addressing the rally.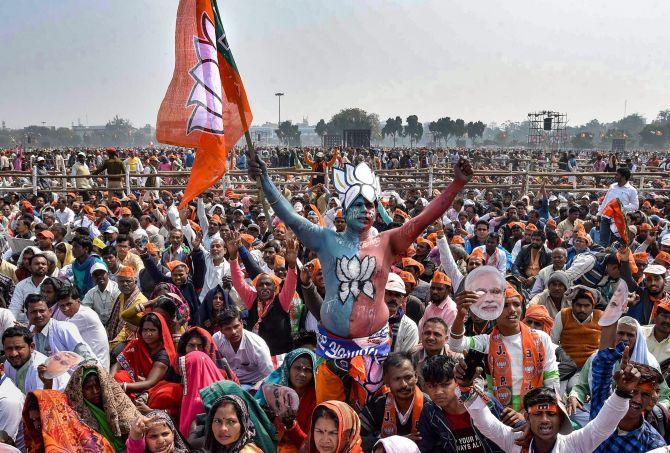 Kumar also congratulated the prime minister, the Indian Army and the Indian Air Force for taking action against terror outfits and those who promote terrorism.
He also praised the Modi government and the armed forces for forcing Pakistan to release Wing Commander Abhinandan Vardhaman.
Union ministers Ram Vilas Paswan, Ravi Shankar Prasad, Radha Mohan Singh, Bihar Deputy Chief Minister Sushil Kumar Modi, Bihar BJP in-charge Bhupendra Yadav, Bihar BJP chief Nityanand Rai, Bihar Janata Dal-United chief Bashishtha Narayan Singh, Bihar minister and state president of Lok Janshakti Party Pashupati Kumar Paras, ministers Mangal Pandey, Nand Kishore Yadav and a host of other NDA leaders also attended the 'Sankalp rally'.
Kumar also assured the PM that work on providing toilet facility to every household in the state will be completed by October 2, 2019, the birth anniversary of Mahatma Gandhi.