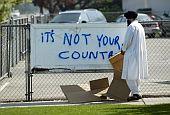 One in five hate crimes reported in the US in 2011 were due to religious bias, most of them stemming from anti-Jewish and anti-Islamic prejudice, while almost half of such crimes were racially-motivated, the FBI has said in its new data.
In 2011, US law enforcement agencies reported 6,222 hate crime incidents involving 7,254 offenses, according to the Hate Crime Statistics, 2011.
The statistics noted a slight drop of six per cent in the number of such cases in 2011 as compared to the previous year.

These incidents included offenses like vandalism, intimidation, assault, rape and murder, the FBI said.

Of the 6,222 reported hate crimes, 6,216 were single-bias incidents, 46.9 per cent were racially motivated, 20.8 per cent resulted from sexual orientation bias, 19.8 per cent were motivated by religious bias, 11.6 stemmed from ethnicity / national origin bias, and 0.9 per cent were prompted by disability bias, the FBI said in its annual hate crime statistics report for the year 2011.
In 2011, law enforcement agencies reported that 3,465 single-bias hate crime offenses were racially motivated.
Of these offenses 72 per cent were motivated by anti- black bias, 16.7 per cent stemmed from anti-white bias, 4.8 per cent resulted from anti-Asian/Pacific Islander bias, 4.7 per cent were a result of bias against groups of individuals consisting of more than one race and 1.9 per cent were motivated by bias against Native Indians.
Hate crimes motivated by religious bias accounted for 1,318 offenses reported by law enforcement.
A breakdown of the bias motivation of religious-biased offenses showed 62.2 per cent were anti-Jewish, 13.3 per cent were anti-Islamic, 5.2 per cent were anti-Catholic, 4.8 per
cent were anti-multiple religions, group, 3.7 per cent were anti-Protestant, 0.3 per cent were anti-Atheism/Agnosticism/ and 10.5 per cent were anti-other religion.
Thirty-two per cent of the 6,222 hate crime incidents reported took place in or near residences; 18 per cent took place on highways, roads, and alleys; and 9.3 per cent took place at schools or colleges.
The remaining took place at houses of worship, parking lots, bars, government and office buildings among others.

According to the FBI, beginning 2013, law enforcement agencies reporting hate crimes will be able to get even more specific when reporting bias motivation.
While the new bias categories of gender and gender identity were added to the FBI's hate crime data collection, other bias types were modified to comply with the race and ethnicity designations specified by the US Office of Management and Budget.
Data submitted under these new specifications will be part of the UCR programme's new system.