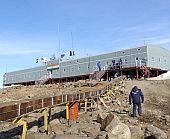 A joint US-Russian team has concluded a 10-day trip to inspect foreign research stations in Antarctica, including those of India.
Besides inspecting the two Indian stations -- Bharati and Maitri -- the joint team also inspected sites of other countries as part of the collaboration between the two countries announced this September.
The other stations visited were Princess Elisabeth (Belgium), Syowa (Japan), Troll (Norway) and Zhongshan (China).
"The US appreciates the assistance provided by the personnel at all of the visited stations," a State Department statement said.
The joint inspection was conducted pursuant to the Antarctic Treaty of 1959 and its Environmental Protocol, which was designed to review compliance with Antarctic Treaty system rules and regulations.

This included verification that the stations are implementing relevant environmental rules and that facilities are used only for peaceful purposes -- honouring the Treaty's prohibition on measures of a military nature.
This inspection effort was facilitated by a Memorandum of Understanding on Cooperation in Antarctica signed by Secretary of State Hillary Clinton and the Russian Foreign Minister Sergey Lavrov last September.
Officials from the US Department of State and the Russian Federation Ministry of Foreign Affairs led the inspection, which is the second phase of a two-phase process.
A report will be jointly presented by the United States and Russia at the next Antarctic Treaty Consultative Meeting, to be held in Brussels, Belgium, in May next year.

The US and Russia were architects of the Antarctic Treaty of 1959 and today conduct some of the most extensive and diverse scientific activities in Antarctica.
"Working closely with our Russian counterparts provides an excellent opportunity to reinforce our shared objectives for the peaceful use of Antarctica and further expands our diplomatic cooperation," the State Department said.