Telangana Chief Minister K Chandrashekar Rao's politician daughter K Kavitha on Wednesday said she will appear before the Enforcement Directorate on March 11 in connection with a money laundering case linked to alleged irregularities in the Delhi excise policy.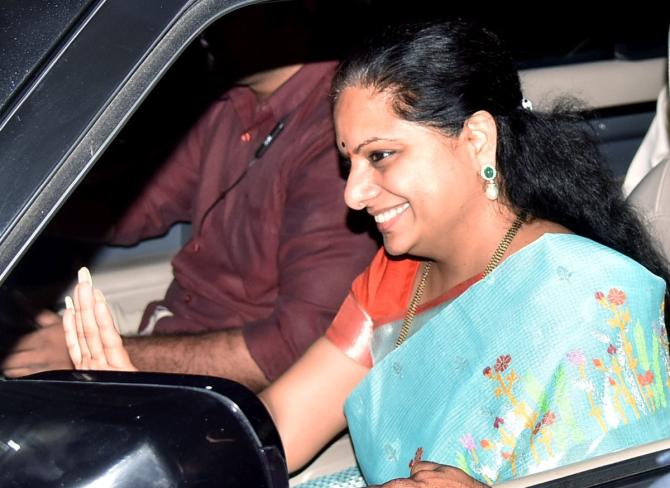 Kavitha Kalvakuntla (44), a Bharat Rashtra Samithi MLC, declared this in a late-night post on her official Twitter handle.
"I will be appearing before the Enforcement Directorate in New Delhi on March 11, 2023," she said.
The BRS leader landed in the national capital from Hyderabad late evening. She was summoned by the ED to depose before it on March 9.
Kavitha has been called by the agency so that she can be confronted with Hyderabad-based businessman Arun Ramchandran Pillai, an alleged frontman of the "south group", who was arrested by the ED on Monday.
The agency will record Kavitha's statement under the Prevention of Money Laundering Act during this confrontation.
Pillai is in ED custody and the agency had earlier said he "represented the south group", an alleged liquor cartel linked to Kavitha and others.
The BRS leader said she would fully cooperate with the investigation agency but would seek legal opinion on the date of deposition in view of her proposed dharna in Delhi on March 10 in support of the Women's Reservation Bill.
Kavitha said "these tactics of intimidation" against the fight of her father and Chief Minister K Chandrashekar Rao, and the BRS would not deter them.
The ED has Pillai's custody till March 12. He will again be produced before a Delhi court on March 13.
The "south group", according to the agency, "comprises" Sarath Reddy (promoter of Aurobindo Pharma), Magunta Srinivasulu Reddy (YSR Congress MP from Ongole Lok Sabha seat), Kavitha and others.
The ED also alleged in Pillai's remand papers that he "represented the benami investments" of Kavitha in this case.
The BRS leader has been questioned by the Central Bureau of Investigation in this case earlier.
It is alleged that the Delhi government's excise policy for 2021-22 to grant licences to liquor traders allowed cartelisation and favoured certain dealers, who had allegedly paid bribes for it, a charge strongly refuted by the ruling Aam Aadmi Party in Delhi.
The policy was later scrapped and the Delhi Lt Governor recommended a CBI probe, following which the ED registered a case under the PMLA.