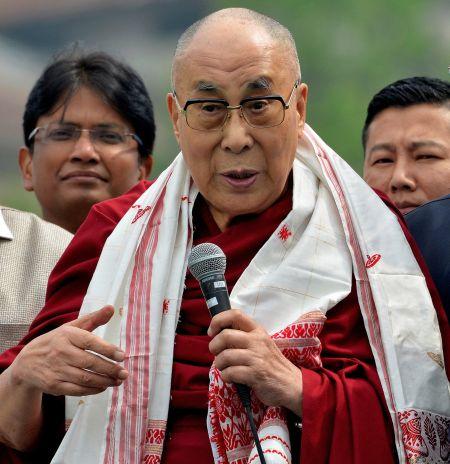 The minister of state for Home said that China should not interfere in India's internal affairs.
India on Tuesday hit out at China over its objection to the Dalai Lama's trip to Arunachal Pradesh, saying no "artificial controversy" should be created around the visit and asked Beijing not to interfere in its internal affairs.
China has kept a close watch ahead of the Dalai Lama's visit, starting Tuesday, and the Chinese foreign ministry had warned India against the visit of the Tibetan spiritual leader to Arunachal Pradesh, which Beijing claims as part of Tibet, saying it will cause "serious damage" to bilateral ties.
However, unfazed by the Chinese warning, India asserted, "No additional colour should be ascribed to his religious and spiritual activities and visits to various states of India."
It also reiterated the government's position that the Dalai Lama is a revered religious leader who is deeply respected by the Indian people.
The government, therefore, urges that no "artificial controversy" should be created around his present visit to Arunachal Pradesh, the external affairs ministry said in a press release.
Reacting sharply, Minister of State for Home Kiran Rijiju asked China not to interfere in India's internal affairs and asserted that New Delhi respects the "One-China" policy and expects Beijing to reciprocate.
He said, "There is no political angle behind His Holiness's visit to Arunachal Pradesh. It is completely religious.
"Arunachal Pradesh is an inseparable part of India and China should not object to his visit and interfere in India's internal affairs."
-- An epic journey: The day the Dalai Lama came to India
India has never interfered in China's internal affairs and it expects China to reciprocate, the minister said.
The minister, who hails from Arunachal Pradesh, said the border state is "not a disputed territory" and is part of the Union of India and is a "full-fledged state".
"There may be some differences of opinion between India and China over the boundary. But China has no locus standi over Arunachal Pradesh," he said.
Rijiju said talks between New Delhi and Beijing on the boundary dispute are going on and the people of Arunachal Pradesh are expecting that the issue will be soon resolved.
"I appeal to China not to rake up the Arunachal Pradesh issue unnecessarily as status of the state can't be questioned," he said.
During his visit to the northeastern state, the Dalai Lama will hold religious discourse with devotees in Tawang, Bomdila and other areas.
Rijiju said the Dalai Lama is visiting Arunachal Pradesh at the invitation of the people of the state and will confine himself to only religious discourse and he will not make any political statement.
"As a democratic country, India can't interfere in religious affairs of any community," he added.
The Arunachal Pradesh government has accorded state guest honour to the Dalai Lama and is making arrangements for his stay there, Rijiju said, adding the Tibetan spiritual leader will also visit his (Rijiju's) village in West Kameng district where he will inaugurate a Buddhist monastery.
The Dalai Lama had last visited Arunachal Pradesh in November 2009.
He said the people of Arunachal Pradesh want good neighbourly relations with China and want reopening of trading points along the McMahon Line which have been closed since 1962.
"The trading points were beneficial. The people of Arunachal Pradesh are looking toward cooperative attitude from China," he said.
The external affairs ministry also referred to the Dalai Lama's website which mentions that he has visited Arunachal Pradesh on six earlier occasions.
Photograph: Anuwar Hazarika/Reuters