'Antiviral treatment will have no change. Spike protein change may affect the immunity protection.'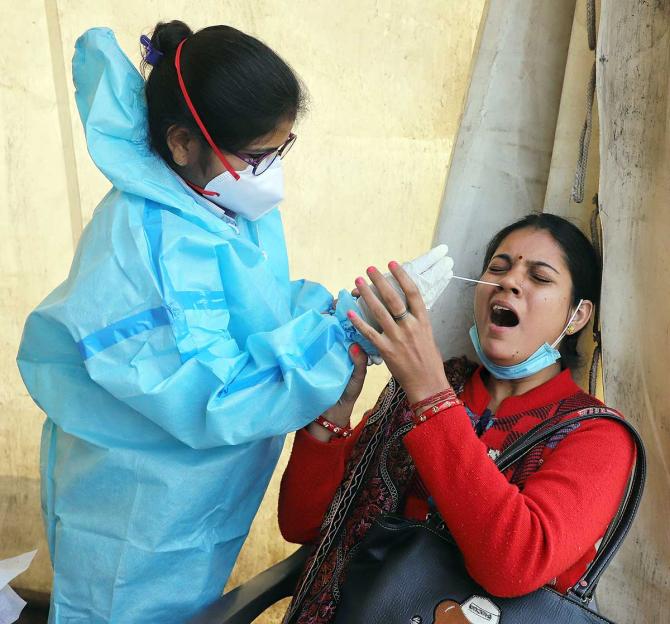 A new South African variant of coronavirus has created ripples across the world. We take a look at what we know about the new type so far.
What is this South African variant?
The variant has been termed B.1.1.529 and according to preliminary data it has many mutations across different parts of the virus.
Scientists in South Africa have detected over 30 mutations to the spike protein.
Spike protein is that part of the virus which binds to cells in the body. Several mutations to the spike protein can thus have implications for vaccine efficacy and transmissibility.
Should we be worried?
Even though much more genomic sequencing needs to be done before we have definitive answers some experts have said that the variant seems to spread very quick.
Tulio de Oliviera, director of Centre for Epidemic Response and Innovation, South Africa said, 'In less than two weeks now (B.1.1.529) dominates all infections following a devastating Delta wave in South Africa.'
Tom Wenseleers, Biology and biostatistics professor, KU Leuven University said in a tweet, 'With a generation time of 4.7 days of the virus that would imply a 6 fold higher R value than Delta, if that would even be possible. To be confirmed, but not looking good.'
It is however, still early days to assess if this variant is more lethal or transmissible.
Health experts caution that vaccination and covid appropriate behaviour are the best protection available to us right now.
Will this impact vaccine efficacy and therapeutics?
Experts say that antivirals (like remdesivir and favipiravir) would continue to work as they do not specifically target the spike protein alone.
Dr Jacob John, former head of Centre for Advanced Research in Virology at the Indian Council of Medical Research, says, "Antiviral treatment will have no change. Spike protein change may affect the immunity protection. Currently, all vaccines are protected against variants with slight variations. This is what may happen with this new variant. Vaccine immunity may be less effective."
Dr John feels if a booster dose of the vaccine is given then it may improve the immune response, but this has to be studied and demonstrated.
What is WHO doing?
Dr Maria Van Kerkhove, technical head on COVID-19, WHO, said, 'We don't know very much about this yet. What we do know is that this variant has a large number of mutations. And the concern is that when you have so many mutations, it can have an impact on how the virus behaves.'
Dr Van Kerkhove tweeted that researchers are getting together to understand what this potentially means for our diagnostics, therapeutics and our vaccines.
Feature Presentation: Ashish Narsale/Rediff.com