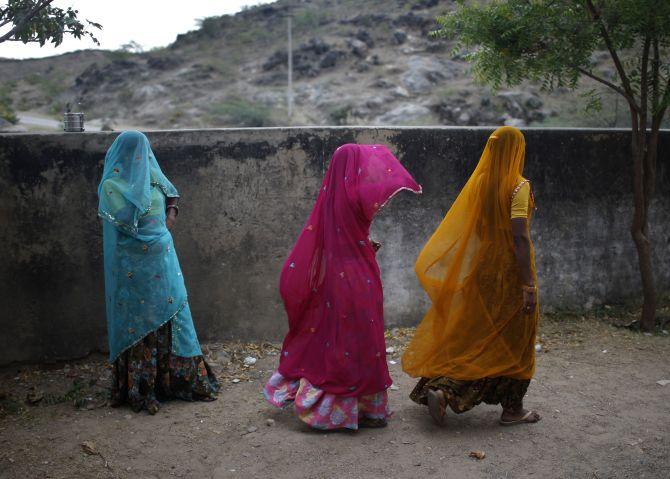 An activist Zafar Khan was lynched in Rajasthan for resisting photography and videography of women defecating in open on Friday, prompting other activists to demand tough action against the accused.
They said the deceased lost his life for a social cause.
Municipality employees in Pratpargh town on Saturday beat the middle-aged Khan to death when he allegedly tried to stop them from scaring women defecating in the open and taking their photographs.
The incident happened near Bagwasa Kachi Basti area at around 6.30 am where few women had gone to attend nature's call.
The municipality employees of Pratapgarh town municipality tried scaring away women and took photographs of women defecating in the open.
It was then that Khan intervened and tried stopping municipality employees from taking pictures.
In retaliation, municipality employees kicked, punched and beat Khan with a stick, which led to his death, according to the first information report lodged by Khan's elder brother Noor Mohammed.
Noor has lodged a complaint against Kamal Harijan, Ritesh Harijan, Manish Harijan, Nagar Parishad commissioner Ashok Jain and others following police have registered a case of murder, Pratapgarh Kotwali police said.
Pratapgarh Superintendent of Police, Shivraj Meena said, "We are getting the matter investigated and a case has been registered against four named accused in the FIR."
Police has been deployed considering the matter sensitive and to maintain law and order.
"It's really unfortunate. It's an administrative duty to prevent ladies from going out for defecating in open. This is an obscene thing. Zafar just wanted to protect the dignity of women. This is a deliberate murder. I demand a very rigorous punishment," woman activist Ruby Mukherjee said.
Another activist Nirmala Samant demanded that the society and police must take stringent action on this matter.
"This was against the modesty of women. Zafar lost his life for a social cause. The society and the police must take a note of this," Samant said.
Earlier in the day, a statement by the Communist Party of India-Marxist-Leninist's Pratapgarh district committee stated that, on June 16, Khan was kicked, punched and beaten to death by municipal council employees at the instigation of Nagar Parishad commissioner Ashok Jain, who ordered to take photographs and videos of women from the Bagwasa Kachi village when they were going to defecate in the open.
Khan himself had submitted a memorandum to the Nagar Parishad few days ago, protesting against the campaign of public shaming and bullying of women for defecating in the open, the statement added.
'In the memorandum, he had demanded community toilets and repairing of the non-functional public latrines constructed under the Swacch Bharat campaign. He had also unsuccessfully sought to submit the memorandum to the district magistrate who had refused to accept it,' it said.
The CPI-ML demanded that Jain and others named in the FIR lodged in Khan's murder case should be arrested and given speedy punishment.
'We demand that the central government and all state government officially declare public shaming and lynch mob tactics in the guise of Swacch Bharat campaign to be illegal and punish officials promoting the use of such tactics,' the statement said.
The statement further said, 'The drive to end open defecation cannot proceed on the basis of inflicting indignities on the poor and helpless people who have no access to private or public toilets. The present strategy of Open Defecation-Free villages campaign is giving rise to corruption, fake claims and public humiliation of deprived people. The governments must reverse this draconian strategy and unleash a positive campaign popularising toilet use, with a focus on construction of toilets, assured availability of water, and proper arrangements for toilet-cleaning.'
'All over the country, sanitation workers are fighting for their dignity and rights against oppressive and inhuman working conditions. It is highly unfortunate that the Rajasthan government, which denies sanitation workers their due rights, used them as fodder in the public shaming and lynching campaign on the pretext of Swacch Bharat,' the statement added.
The CPI-ML has further appealed to all 'the forces struggling against mob lynching, for women's rights and dignity, and for sanitation workers' rights, to unite in the struggle for justice for Zafar'.
With inputs from ANI
Image for representation only. Photograph: Ahmad Masood/Reuters