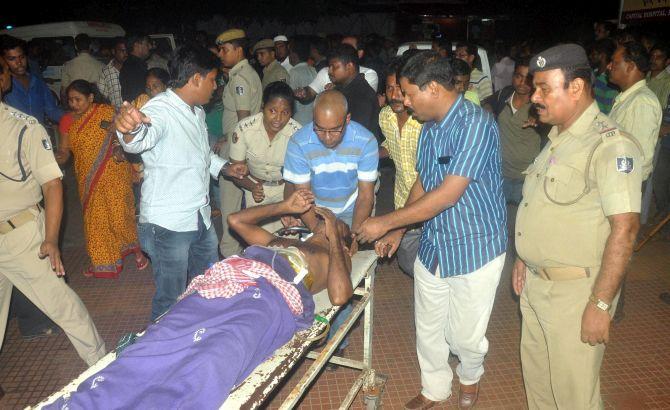 Odisha's Health and Family Welfare Minister Atanu Sabyasachi Nayak on Friday resigned in the wake of death of 25 people in a hospital fire tragedy, while opposition parties asked Chief Minister Naveen Patnaik to follow suit on moral grounds.
"Mr Atanu Sabyasachi Nayak has sent me his letter of resignation. He has resigned on moral grounds. I have accepted it and sent it to the Governor," Chief Minister Naveen Patnaik told reporters on Friday.
The minister, who was also holding Information and Public Relations portfolio, put in his papers as police began interrogation of the arrested SUM Hospital owner Manoj Ranjan Nayak.
Manoj Nayak was arrested and sent to jail on Thursday. He was taken by police on a two-day remand on Friday.
Sources said the minister's resignation came barely a few hours after police began grilling Manoj Ranjan Nayak. The opposition had accused the health minister of shielding the owner of the fire-ravaged hospital.
Opposition parties, which had been demanding the minister's head to roll since the fire tragedy took place on Monday evening, also alleged that Atanu's wife was an employee of Sikshya O Anusandhan University, headed by Manoj Nayak.
This apart, it was alleged that both Khurda District Collector Niranjan Sahoo and Director, Department of Medical Education and Training P C Mohapatra failed to take action against SUM Hospital because of the minister's close proximity with Manoj Nayak, who also hailed from Kendrapara district as the minister.
However, the minister had for the first time on Thursday admitted that there were lapses in fire safety measures in SUM Hospital where the blaze killed 25 people. The hospital had violated fire safety norms and other guidelines.
The hospital was also accused of overlooking a 2013 advisory of the government to improve firefighting apparatus.
As soon as the chief minister announced the resignation of Nayak, opposition Congress and Bharatiya Janata Party began gunning for him.
"We welcome Nayak's resignation. However, it will be proper if the Chief Minister also resigns on the same moral ground. This is because people died in fire which is under home department headed by Patnaik," said OPCC spokesman Ganeswar Behera.
Leader of Opposition Narasingha Mishra of Congress said, "There cannot be a neutral probe unless Patnaik resigns as he is also the home minister. The hospital fire was because of the mismanagement in both the health and home departments. If the health minister resigns on moral ground, why not the Home Minister as well?"
BJP state president Basant Panda said, "The chief minister should also resign on moral ground."
Maintaining that the chief minister cannot escape responsibility for the tragedy, Panda said the BJP would launch a state-wide campaign demanding Patnaik's resignation.
The Odisha BJP had on Thursday lodged a police complaint against both the chief minister and Atanu Nayak, naming them as accused in SUM Hospital case.
Nayak was not immediately available for comments on his resignation.