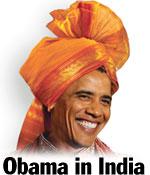 United States President Barack Obama would have loved to spend more time in India during his November visit but time constraints are preventing him from visiting Agra's Taj Mahal and the Golden Temple in Amritsar, the White House has said in an effort to dispel reports that said the requirement of a headgear prompted him to shelve plans to go to Amritsar.
Ahead of the presidential visit beginning November 6 White House press secretary Robert Gibbs, said, "Anybody that would go would love to go to India to spend a lot more time there"
"We're afforded a short trip to a very important country in a very important region of the world because the trip obviously is also anchored by the important economic meetings later on in the trip." he added.
Asked why Obama is not visiting the Golden Temple in Amritsar or the Taj Mahal in Agra, Gibbs, said, "I said even before we started these briefings, we are in India for three days. You could spend a lot longer than that, and obviously anybody would."
"We picked our schedule based on what we wanted to get accomplished, and that focus was on New Delhi and Mumbai, and that's going to be the focus of our trip."
Obama will be arriving in Mumbai on November 6, a day after Diwali. He will stay in Mumbai on November 6 and will reach New Delhi on November 7.
The official meetings are scheduled for November 8 and he is scheduled to leave for Jakarta on November 9.
After the Golden Temple visit was called off, reports suggested that the Obama administration was wary that a headscarf, as required at the religious site, might portray an image of a Muslim.
Surveys in America this year have revealed that a large chunk of Americans believe that Obama is a Muslim.