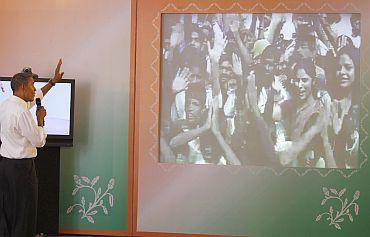 Union Minister Sachin Pilot tells Rediff.com's Archana Masih about the Kanpura panchayat's e-interaction with President Obama.
"It is good that President Obama got a flavour of rural India. It was a useful discussion because IT is not just about export and dollars -- or about big cities like Delhi and Mumbai -- but also about how it is improving villages," said a proud Sachin Pilot, the Union minister of state for communication shortly after the US president's e-interaction with the villagers in Kanpura in Rajasthan.
The young, articulate minister, who was wearing a traditional Rajasthani turban, said President Obama was casual and inquisitive in the interaction with village panchayat members and was very impressed with the manner in which they were using technology to help them do a better job.
"The villagers were elated and proud because the president wanted to know their experiences. The way villagers have learnt to use computer technology that has helped this village is not only a matter of pride for them and me, but for us all," added the Member of Parliament from Ajmer, in which Kanpura village lies.
Pilot said the villagers did not do anything special for the interaction, but were just showcasing what they had done over the past year.
Kanpura was surveyed by US embassy staff and selected as a model for incorporating e-governance in rural India.
President Obama mentioned his e-interaction with the Kanpura panchayat while speaking to students at St Xavier's College in Mumbai later on Sunday morning. He said he was impressed to know that farmers could receive crop information on their cell phones and women could get suitable equipment for farming with the aid of the broadband network.
"The president wanted to learn more about how broadband was helping villagers," said Pilot who will stay in the village till the night, "As far as IT technology goes, a beginning has been made and our goal is to connect all village panchayats in the country and bring transformational change."
Image: President Barack Obama interacts with villagers in Kanpura, Rajasthan, via a live Internet link in Mumbai. Photograph: Jason Reed/Reuters