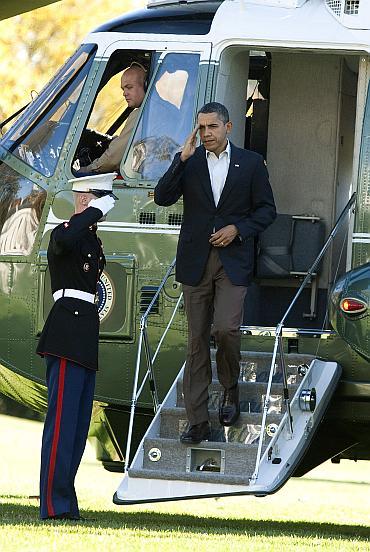 Returning home to the United States after a 9-day sojourn to Asia, President Barack Obama spoke to the media on board Air Force One, where he joked about his press secretary Robert Gibbs's run-in with Indian officials in New Delhi, among other things.
A couple of India-centric glimpses:

What's your takeaway from the trip?

A couple of things. Number one, I think all of Asia is eager for American engagement and leadership. We saw that in India; we saw it in Indonesia; we saw it during the G20 and we saw it during APEC.
And it wasn't just from leaders. I was struck when I was at the first school that we went to in Mumbai, and those young kids who were talking about the environment and green technology.
On the way down, I said, "Well, what are you guys' plans?"
"Well, we're, of course, going to go to college."
I said, "Where are you going to go?"
"Well, America, of course."
And so I think that sometimes because we've gone through a tough couple of years, there's a tendency for us to think that somehow Asia is moving and we're forgotten. And in fact, I think everywhere in Asia, what I heard from leaders and people is that we are still central, and they want us there.
Now, the second strong impression is, those folks are moving. Korea, China, India, the entire Southeast Asian region -- Japan -- all of them recognise how competitive things are and that they are thinking each and every day about how to educate their workforce, rebuild their infrastructure, enter into new markets.
And we should feel confident about our ability to compete, but we are going to have to step up our game.


***
Is Gibbs in line for a Presidential Medal of Freedom for taking on the Indians back there, getting the reporters in?
I will say that his foot is still bruised.But it was all for a good cause.
Image: President Obama arrives at the White House. Photograph: Joshua Roberts/Reuters

Also Read:
Holy Name 'green' presentation floors Obama
'We had been mentored to ask safe questions'
Press secretary threatens to pull Obama out of talks
The Best Coverage, only on Rediff.com: Obama in India