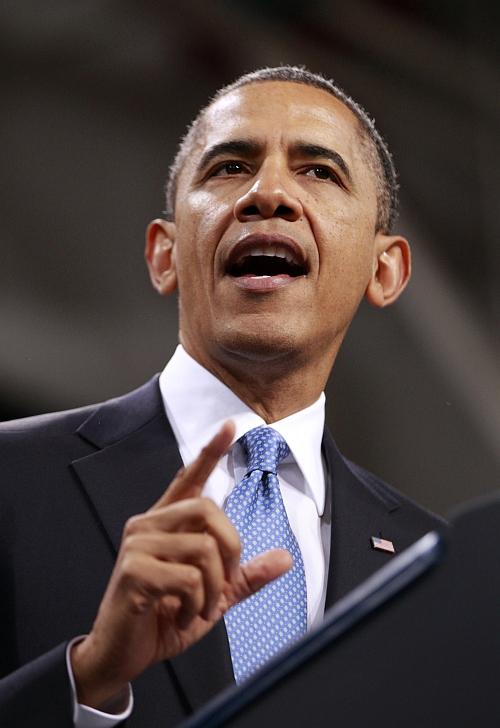 United States President Barack Obama on Friday ruled out sending US ground troops "back into combat" in Iraq, but said that he is reviewing a range of other options to help the war-torn country counter the violent Islamic insurgency.
"We will not be sending US troops back into combat in Iraq, but I have asked my national security team to prepare a range of other options that could help support Iraq's security forces. And I'll be reviewing those options in the days ahead," Obama told reporters on the White House lawns.
Obama said that "Ultimately it's up to Iraqis to solve their problems".
He said, "There will be some short-term immediate things that need to be done militarily, and our national security team is looking into all the options." He didn't provide details.
"The US simply is not going to get involved in a military action without assurances" that the Iraqi government will take actions to unify the country and reduce sectarian tensions, he said.
He asserted that any action that US makes take to provide assistance to Iraqi security forces has to be joined by a serious and sincere effort by Iraq's leaders to set aside sectarian differences, to promote stability and account for the legitimate interests of all of Iraq's communities, and to continue to build the capacity of an effective security force.
"We can't do it for them. In the absence of this type of political effort, short-term military action -- including any assistance we might provide -- won't succeed," Obama asserted.
"So this should be a wake-up call. Iraq's leaders have to demonstrate a willingness to make hard decisions and compromises on behalf of the Iraqi people in order to bring the country together. In that effort, they will have the support of the United States and our friends and our allies," he said.
The President appeared on the South Lawn of the White House after consulting with his top advisers.
Obama said ISIL, which stands for the Islamic State of Iraq and the Levant, poses a threat to Iraq, but because of its ideology and penchant for violence it "could pose a threat to American interests."
He mentioned some initial moves, but stopped short of spelling out further steps that could include air strikes intended to slow the progress of militants and help the Iraqi military regain its equilibrium.
The ISIL, the Al Qaeda-inspired Islamic insurgent group has taken major cities in Iraq and vowed to march on the capital, Baghdad.
Obama said, "This is an area that we've been watching with a lot of concern, not just over the last couple of days but over the last several months."
Obama noted that any military action is not going to happen overnight.
"People should not anticipate that this is something that is going to happen overnight. We want to make sure that we have good eyes on the situation there. We want to make sure that we gathered all the intelligence that's necessary so that if in fact I do direct and order any actions there, that they're targeted, they're precise and they're going to have an effect," he said.
Stating that Iraq's neighbours also have some responsibilities to support this process, Obama said nobody has an interest in seeing terrorists gain a foothold inside of Iraq.
"Nobody is going to benefit from seeing Iraq descend into chaos. So the United States will do our part, but understand that ultimately it's up to the Iraqis, as a sovereign nation, to solve their problems," he said.
Obama said the US has poured a lot of money into Iraqi security forces and has given a lot of training to Iraqi security forces.
"The fact that they (Iraqi forces) are not willing to stand and fight and defend their posts against admittedly hardened terrorists, but not terrorists who are overwhelming in numbers, indicates that there's a problem with morale, there's a problem in terms of commitment, and ultimately that's rooted in the political problems that have plagued the country for a very long time," he said.