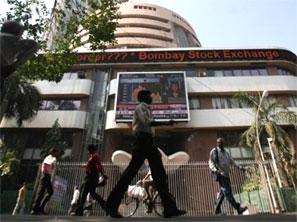 Benchmark indices, Sensex and Nifty, have extended losses and have hit fresh intraday low weighed down by spike in oil price amid increasing violence in Iraq. The 30-share Sensex is down 348 points and the 50-share Nifty was down 107 points at 25,228.17 and 7,542.10 level, respectively.

Shares of mid-and small-cap companies are under pressure after oil prices hit their highest level in nearly nine months today as escalating civil war in Iraq hit risk appetite. BSE Mid-cap and BSE Small-cap lost 2.5% and 3.1%, respectively.

Asian Markets:

Japan's Nikkei share average bounced off a 2 1/2-week low struck in early trade on Friday, spurred by a Jiji news agency report that Prime Minister Shinzo Abe plans to announce the policy regarding a cut in the corporate tax rate later in the day.

The Nikkei rose 0.8% to 15,097.84, after earlier falling to 14,830.99, the lowest since June 2. For the week, the index added 0.1%, posting a fourth consecutive weekly gain.

Shares in China and Hong Kong rose on Friday, led by strong gains in the banking sector after data showed China's new bank lending and money supply rose faster than expected in May, adding to hopes that the economy was stabilizing.

By midday, the Hang Seng Index rose 0.6% to 23,316.31 points, while the China Enterprises Index of the top Chinese listings in Hong Kong was up a similar amount.

The CSI300 of the leading Shanghai and Shenzhen A-share listings gained 1.3%, while the Shanghai Composite Index was up 0.9% at 2,070.27 points.

European Markets:

British property companies led a pullback in European indexes on Friday after the Bank of England (BoE) flagged concerns about loose mortgage lending and raised the prospect of a rate hike Violence in Iraq hit broader market sentiment and boosted oil prices, with airline stocks among the worst hit while shares in oil majors gained.CAC, FTSE and DAX have lost 0.6%, 0.7% and 0.8%, respectively.

Crude Oil:

Brent crude climbed nine-month high approximately $115 a barrel on Friday, as supply disruption fears took centre stage after the United States threatened military action in Iraq against Sunni Islamist militants who are pushing on towards Baghdad.

Rupee:

The rupee is currently trading at 59.5 against the US dollar tracking weak global cues following tensions in Iraq and downbeat U.S. economic data.

Sectors & Stocks:

Crude oil hovered near nine-month highs early on Friday as escalating civil war in Iraq hit risk appetite. As a result of which oil and gas stocks such as ONGC, GAIL and Reliance have lost 1.6%-3.5%, each

Technology stocks declined on negative economic data in US as US is the biggest outsourcing market for the Indian IT firms. TCS and Wipro are down0.3%-0.7%. In contrast, Infosys, which lost 0.3% yesterday, has rebound and is up 0.4%

Metal shares such as Hindalco which gained 2.34% to Rs 166.40 after the company's US subsidiary Novelis successfully cast the first production-sized ingot at its 200 million Euro aluminium recycling and casting center in Nachterstedt, Germany, has lost 3.9%. Among the lot, Tata Steel, Sesa sterlite and Coal India have shed 0.9%-4.4%,each

The Pharma stocks which experienced an upsurge in the recent past due to free cash flows, bright outlook, particularly in the US market have lost on the BSE on profit booking. Sun Pharma and Cipla shed 0.2% and 0.4%, respectively. On the other han, Dr Reddy's Lab continued the momentum and is up 0.5%

Following the formation of a stable government at the Centre, and strong IIP data, the Auto stocks which gained massively have plunged during the late noon trades on the account of heavy profit booking with Tata Motors, Baja Auto and Maruti Suzuki down 0.7%-3%, each. In contrast, its peer M&M is up 0.3% and 0.3% each.

US private equity firm Bain Capital will sell half its holding in Hero MotoCorp, worth up to $393 million (about Rs 2,328 crore). The stake will be sold through open market transactions on Friday. According to the term sheet prepared by Citibank, the banker for the deal, Bain will offload 4.29 per cent stake in the Delhi-based company, selling 8.57 million shares through an accelerated book building offering and is down 4.5%

Financial stocks such as ICICI Bank, Axis Bank, which is the biggest loser of the day, and HDFC have lost 0.5%-4.7%, each. On the other hand, HDFC bank have gained 0.01%

Among Capital goods stocks, BHEL and Larson have lost 2.6% and 1.9%, respectively on the account of profit booking at higher levels

Amid unpredictable Monsoons, FMCG sector is trading mixed with ITC down 0.7% and HUL up 0.7%, which is the biggest gainer of today.

Stocks in limelight:

DF Foods has soared 8% to Rs 64, extending its previous day's 12% rally, after the company said its promoters have increased their stake in the company by more than 4 percentage points through open market transaction.

City Union Bank has rallied 9% to Rs 78.95, hitting its record high, after a huge block deal executed in the counter on the Bombay Stock Exchange (BSE).

Saregama India has surged nearly 10% to Rs 126, also its 52-week high on BSE, after reporting over two-fold jump in net profit at Rs 6.75 crore for the quarter ended March 31, 2014, on back of strong operational performance. The RP-Sanjiv Goenka Group Company had profit of Rs 2.32 crore in the same quarter last year.

Edelweiss Financial Services is trading higher by 6% at Rs 63.65, extending its previous day's 10% rally after Rakesh Jhunjhunwala bought 1.3% stake in financial services firm through an open market transaction.