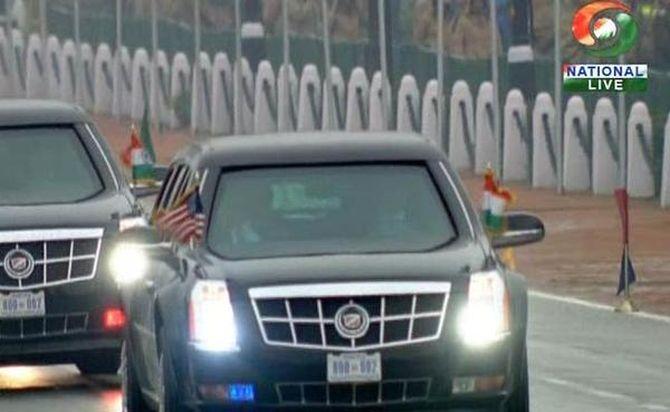 US President Barack Obama arrives at Rajpath in his own car.

In a departure from tradition, the chief guest at the Republic Day parade, United States President Barack Obama, on Monday arrived in his own highly-secured bomb-proof vehicle, 'The Beast,' at Rajpath.
The Republic Day chief guest normally travels with the president of India in his car from Rashtrapati Bhavan.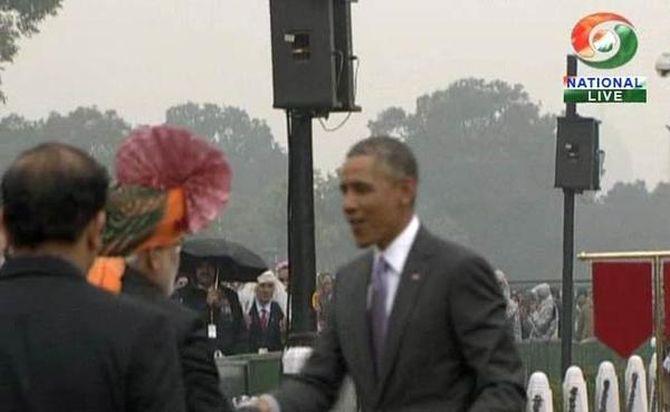 Prime Minister Narendra Modi welcomes Obama at Rajpath on Monday morning.

Obama, along with wife Michelle, was received by Vice President Hamid Ansari and his wife Salma, Prime Minister Narendra Modi and Defence Minister Manohar Parrikar. President Pranab Mukherjee arrived soon after.
Since 2012, the President of India travels in a heavily armoured black Mercedes Benz S600 (W221) Pullman Guard. The armour is designed to protect against military rifle shots, bomb shrapnels and other explosives.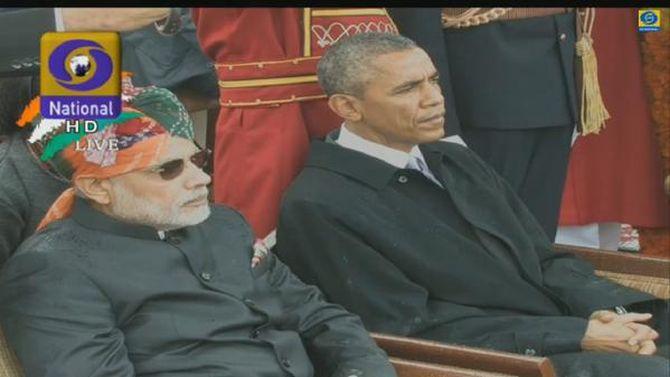 PM Modi and President Obama watch the R-Day parade intently.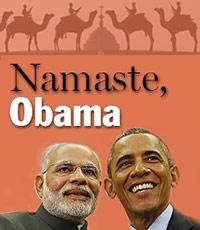 The Beast', based on a Cadillac DTS, is the first presidential limousine not to have a specific model name.
Obama is the first US president to be chief guest at India's Republic Day parade.

Rediff recommends:

10 cool things you should know about Obama's 'beast'

Mean machines: Obama's 'Beast's vs Modi's BMW

5 things to mull about Sunday's Summit