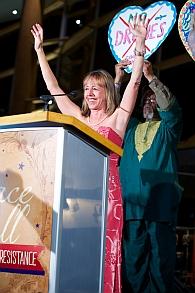 United States President Barack Obama's speech outlining the future of his counter-terrorism polices was disrupted by a member of Code Pink, a group that has long protested the US wars and counter-terrorism policies.
Obama was disrupted several times during his hour-long speech, before the heckler identified as Medea Benjamin, co-founder of the group, was escorted out of the auditorium by security guards
Benjamin pointed out that Obama is the commander in chief and should shut down the prison camp at Guantanamo Bay, Cuba, which houses 166 detainees, including many who have been on a months-long hunger strike.
As Benjamin, donning strawberry blond hair and wearing a black and white dress and blazer on top continued disrupting the speech Obama replied, "Now, ma'am, let me finish. Let me finish, ma'am. Part of free speech is you being able to speak, but also, you listening and me being able to speak."
As Obama spoke about Umar Farouk Abdulmutallab, who tried to blow up an airplane over Detroit; and Faisal Shahzad, who put a car bomb in Times Square, Benjamin again stood up and raised the issue of Abdulmutallab.
"How about Abdulmutallab -- locking up a 16-year-old -- is that the way we treat a 16-year old? Can you take the drones out of the hands of the CIA? Can you stop the signature strikes killing people on the basis of suspicious activities," she asked.
"We're addressing that, ma'am," Obama said, but Benjamin did not stop.
"Thousands of Muslims that got killed -- will you compensate the innocent families- that will make us safer here at home. I love my country. I love my country," Benjamin was heard as saying as she was escorted out of the auditorium at the National Defence University in Washington.
After she was led outside, Obama said, "I think that I'm going off script, as you might expect, here." The line drew laughter, but Obama continued seriously, "the voice of that woman is worth paying attention to. Obviously, I do not agree with much of what she said, and obviously she wasn't listening to me in much of what I said. But these are tough issues, and the suggestion that we can gloss over them is wrong."
Meanwhile, the National Defence University in a statement said that the protester was given access to the auditorium as a media attendee.
"The individual who continued to attempt to interrupt the president's speech at the National Defence University was given access via the list of media attendees expected," the statement read.
"When it was apparent this individual would not be deterred by the president's effort to address her concerns, officials from the National Defence University staff and Base Police asked her to leave and escorted her from the venue. She has been questioned by Join Base Myer-Henderson Hall police," it added.
"This speech was not open to the general public. Attendance for non-media was limited to invited guests from the National Defence University faculty, staff, and student body, along with those invited by the White House," the university said.

Image: Medea Benjamin, member of Code Pink, disrupted US President Barack Obama several times | Photograph: Earl Gibson III/Getty Images