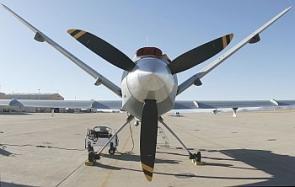 In a shift from its long-held policy, the Obama administration has admitted for the first time that four American nationals have been killed in the Central Intelligence Agency's drone strikes in Pakistan and Yemen since 2009.
While the killing of American-born Al Qaeda cleric Anwar al-Awlaki in Yemen was well known, the names of three others were disclosed by Attorney General Eric Holder in a letter to Senate Judiciary Committee Chairman Patrick Leahy on Wednesday.
The disclosure came ahead of a major speech on national security by President Barack Obama, in which he plans to pledge more transparency to Congress in his counter-terrorism policy, in the wake of criticism of his controversial policies.
"Since 2009, the United States, in the conduct of US counter-terrorism operations against Al Qaeda and its associated forces outside of areas of active hostilities, has specifically targeted and killed one US citizen, Anwar al-Awlaki," Holder said.
"The United States is further aware of three other US citizens who have been killed in such US counter-terrorism operations over that same time period: Samir Khan, 'Abd al-Rahman Anwar al-Awlaki, and Jude Kenan Mohammed. These individuals were not specifically targeted by the United States," Holder informed the lawmakers.
The US officials maintain that the drones only target Al Qaeda and Taliban elements.
In his five-page letter dated May 22, Holder said, "It is an unfortunate but undeniable fact" that a "small number" of US citizens "have decided to commit violent attacks against their own country from abroad".
"Based on generations-old legal principles and Supreme Court decisions handed down during World War II, as well as during the current conflict, it is clear and logical that United States citizenship alone does not make such individuals immune from being targeted," he said, defending the actions.
Rather, it means that the government must take special care and take into account all relevant constitutional considerations, the laws of war, and other law with respect to US citizens -- even those who are leading efforts to kill their fellow, innocent Americans, he said.
"Such considerations allow for the use of lethal force in a foreign country against a US citizen who is a senior operational leader of Al Qaeda or its associated forces, and who is actively engaged in planning to kill Americans," he said.