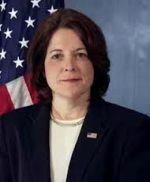 US President Barack Obama has announced to appoint Julia Pierson as the new Director of the Secret Service, thus making her the first female to head the commando unity, which is responsible for the security of the US president and his family.
"Julia is eminently qualified to lead the agency that not only safeguards Americans at major events and secures our financial system, but also protects our leaders and our first families, including my own," Obama said in a statement on Tuesday.
"Julia has had an exemplary career, and I know these experiences will guide her as she takes on this new challenge to lead the impressive men and women of this important agency," he said making the announcement.
Pierson currently serves as Chief of Staff in the Office of the Director of the United States Secret Service.
Prior to her current role, from 2006 to 2008, she served as the USSS assistant director of the Office of Human Resources and Training. She joined the USSS in 1983 as a Special Agent in Miami.
Prior to joining the Service, Pierson was a police officer in the Orlando Police Department from 1980 to 1983.
The Homeland Security Secretary, Janet Napolitano, termed it as a historic decision. "I am proud of the historic decision by President Obama to appoint Pierson to be the first female director of the United States Secret Service," she said.
"With over 30 years of experience in the Secret Service, Julia is exceptionally well-qualified, and well-equipped to lead the men and women of the US Secret Service in their mission to the agency, the Department of Homeland Security, and the President of the United States," Napolitano said.
The Senate Homeland Security and Governmental Affairs Committee Chairman, Tom Carper, said the appointment of Pierson as the new director of the US Secret Service is a "welcome news and a proud milestone" as she becomes the first woman to lead the agency.
"Pierson's vast experience has prepared her to lead this agency with its critical protective, investigative and cyber security missions," Carper said.