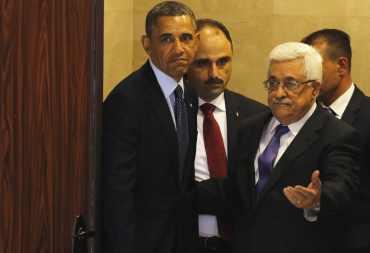 United States President Barack Obama, on a historic trip to the West Bank, on Thursday told Israel that its settlement activities were "not constructive" for peace in the region, and pledged his commitment to a two-state solution as Palestinians "deserve a state of their own".
"Palestinians deserve a state of their own. The US is deeply committed to seeing... an independent, sovereign state of Palestine," Obama said in Ramallah after talks with Palestinian leader Mahmoud Abbas.
"I spoke to President Abbas. I heard him speak of the obstacles, including an ongoing settlement construction policy. I know that the Palestinians are frustrated," he said.
When asked on the possibility of resuming peace talks between Israel and the Palestinians, Obama criticised settlement construction saying, "I told (Israeli Prime Minister Benjamin) Netanyahu that it has been US policy not to consider settlement activity to be constructive, appropriate or advance the cause of peace."
"If the expectation is that we can only have direct negotiations when everything is settled ahead of time, then there is no point for negotiations, so I think it is important to work through this process even if there are irritants on both sides," Obama said.
"My argument is that even though both sides may have areas of strong disagreement, maybe engaging in activities that the other side considers to be a breach of good faith, we have to push through those things to try to get to an agreement."
"I think we can keep pushing through some of these problems and make sure that we don't use them as an excuse not to do anything," said the US president, who is on his maiden visit to the West Bank on the second day of his Mideast trip.
However, Obama said he understands that Israeli politics is "complicated" and that this issue is "not going to be resolved overnight," hinting at the current Israeli coalition government makeup overwhelmingly comprising of hardliners and pro-settlement lawmakers who would block any efforts to put an end to settlement activities.
Acknowledging that settlements cannot advance the cause of peace, Obama urged the Palestinians must not use settlements as an excuse not to talk.
The Palestinian Authority president stressed that not only the Palestinians saw settlements as an obstacle to peace, but it was something that the whole world saw as illegal.
"Everybody considers settlements more than a hurdle toward a two-state solution. The security council issued more than 13 resolutions, not only condemning settlements but demanding ending and removing them because they're illegal. We're demanding nothing other than the implementation of international law," Abbas asserted.
Israel has built dozens of settlements in the West Bank and east Jerusalem since it took control of the area in 1967 and it is now home to 560,000 Israelis, an increase of 60,000 since Obama became the US president.
The two leaders met just hours after Palestinian militants fired rockets on Israel's southern areas from Gaza, which is controlled by the Islamist Hamas faction. In only the second such attack since November on the town of Sderot, which has been often targeted by Gaza based militants. There were no casualties in the attacks.
The Palestinian issue is being seen as a low priority on Obama's agenda during the visit which has mainly focused on the issue of preventing Iran from going nuclear and the strife in Syria that can potentially change the security situation in the region.

Image: US President Barack Obama and his Palestinian counterpart Mahmoud Abbas arrive at a joint new conference in the West Bank city of Ramallah on Thursday | Photograph: Ammar Awad/Reuters