Child specialists are recommending vaccination for younger children be taken up in mission mode, report Ruchika Chitravanshi and Sohini Das.
With the country in the grip of a third COVID-19 wave, the cases of symptomatic-infected children are on the rise, reveal medical experts.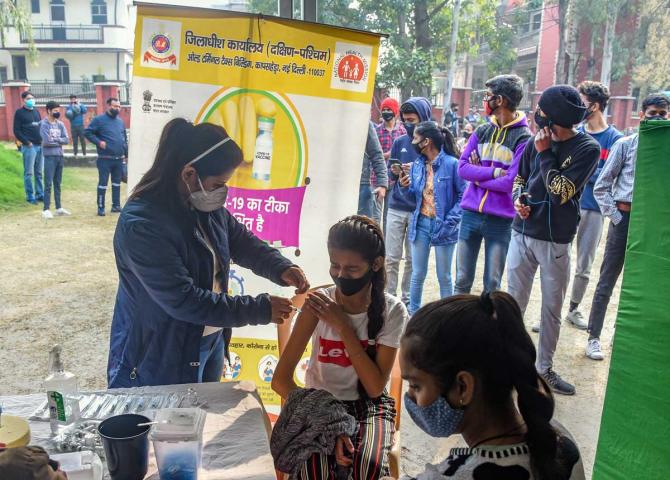 While the infection has been mild in most reported cases, those below two years of age are showing signs of acute infection.
Doctors at this stage have twin worries: One, the rise of multisystem inflammatory syndrome in children, which could manifest four to six weeks after COVID infection.
Two, an increase in cases could overwhelm the medical system already groaning under the weight of inadequate specialised trained staff needed for paediatric care.
But medical professionals aren't pressing the panic button just yet.
They say intensive therapy and/or critical care infrastructure (infra) for children is not stressed yet.
A senior paediatrician in the national Capital says he had 40 young patients come in with COVID in one day, against single-digit cases he tended to in the earlier wave.
"The number of children infected is much higher. Many more children are coming to us with mild symptoms like fever and gastrointestinal disorders. Acute symptoms last for two to three days. But very few hospitalisations so far," he says.
Over the past few months, the government has underscored the need to ramp up paediatric infra in all its advisories.
Union health secretary Rajesh Bhushan said recently, "Around 50 per cent funds of the Rs 23,123-crore emergency COVID response package II announced by the Centre in August has been released to states. Also, 9,574 paediatric intensive care unit beds will be added using the funds."
Since September, India has been ramping up infra for paediatric hospital beds.
Several national-level discussions have happened around deciding upon a clinical protocol for COVID management in children, say doctors.
"The efforts have paid off. Treatment of children in hospitals will not be a challenge in big cities. Although the equipment for newborns and infants is very specialised, adult beds, too, may be used, if the need arises," says Jesal Sheth, paediatrician and intensivist, Fortis Hospital, Mulund.
Of the 139,300 intensive care unit beds available across the country now for COVID patients, around 5 per cent, or 24,057 beds, are earmarked for young patients.
Of the 1.8 million India has, around 4 per cent of the non-ICU beds are available for children, said the Union health ministry.
However, as some health experts say, infra without adequate manpower could be a carriage without wheels.
"Children need special care. They need paediatric nurses and doctors. Adult ICUs cannot be blocked. It will be a logistical nightmare. Even in ICUs, you need a parent/guardian/attendant on call. That causes another group of people to be masked," says Rahul Nagpal, director-paediatrics and neonatology, Fortis Hospital, Delhi.
Nagpal says while the disease among adolescents settles down in two-three days, all respiratory diseases can be severe in babies less than two years old.
Child specialists are recommending vaccination for younger children be taken up in mission mode.
"If the world has to return to normal, one of the ways to ensure that is vaccination. Paediatric vaccination is crucial. Covaxin is a safe vaccine since it uses a very traditional technology," says Nitin Verma, associate director general-paediatrics, Madhukar Rainbow Children's Hospital, Delhi.
"It is the post-COVID impact that is worrying, especially MIS-C, which comes four to six weeks after recovery," he adds.
That the infection is on the rise in children is evident from the US data, says Nagpal.
"Child infection in the US was 2.5 per 100,000 in the last wave; now it is 4 per 100,000," he adds.
Suresh Kumar Panuganti, lead consultant-paediatric critical care and paediatrics, Yashoda Hospitals in Hyderabad, says in the earlier two waves, children who got tested positive for COVID remained asymptomatic. In the third wave, they are showing symptoms.
Panugati says during the first wave, around 4 per cent of children in the age group of 1-10 years required hospitalisation.
That percentage was higher in the 11-20 age group, where 8-10 per cent needed hospitalisation. The proportion is likely to remain unaltered in this wave.
Doctors, however, admit that there are higher COVID cases among children on the ground than is being reported.
"According to rough official estimates, around 2 per cent of total COVID cases reported in Maharashtra are of children. The numbers in the 11-20 age bracket are threefold higher than the 1-10 age group since these children are more social and have higher exposure. The numbers on the ground are way higher," says a Mumbai-based doctor.
He says nearly 80 per cent of his paediatric patients in the past fortnight have had influenza-like symptoms but eventually tested positive for COVID.
symptomatic-infected