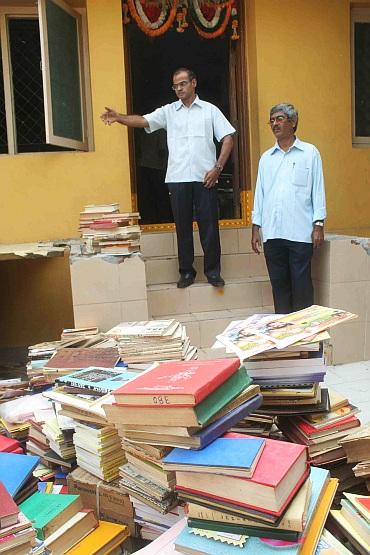 Telugu Desam Party founder president N T Rama Rao's widow Lakshmi Parvathi was Friday evicted from the house she was living in since 1993.
Armed with the court orders and accompanied by the lawyers and the police, NTR's son Ramakrishna got Lakshmi Parvati'S belongings removed from the house from the Road No 13, Banjara Hills.
He took control of the house on behalf of his younger sister Uma Maheshwari as her power of attorney holder. ccording to Parvati, the operation was carried out when she was out of town. She reacted angrily to the development and called it uncivilised and inhuman act.
Ramakrishna defended it saying it was not his family but the court which got the house vacated as it belonged to Uma Maheshwari. "The court had ordered her to vacate the place by the end of November but she did not comply," Ramakrishna told mediapersons.
The house had become a bone of contention between the two branches of the family and all the efforts to persuade Parvati to move out had failed. The matter went to court and on the basis of the will of NTR, the children won the case.
NTR had married Parvati in 1993, almost seven years after his first wife passed away. TR had stayed in the house along with Parvathy when he had become the chief minister in 1994 and remained there till his death in January 1996.
Parvathy had met NTR while writing his biography and later became closer as she nursed NTR back to health after the TDP founder suffered a stroke.
After NTR led his party back to power in 1994, Parvathy became power behind the crown and played a major role in running the party and the government.
Parvathy's growing influence led to a revolt against NTR in the family and the party in August 1995 in which his son-in-law N Chandrababu Naidu took the reigns of the government and the party.
Photo: SnapsIndia