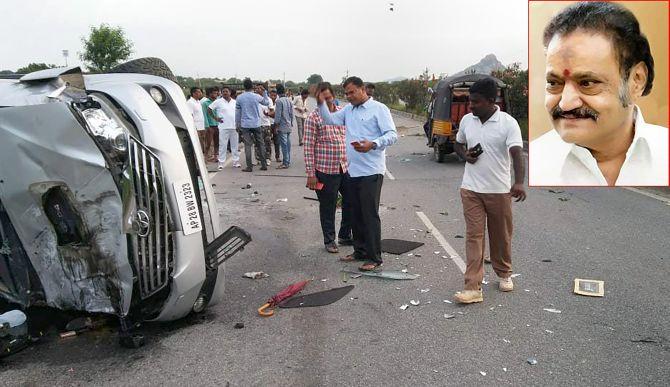 Actor-politician Nandamuri Harikrishna, son of Telugu cinema giant and thrice chief minister of undivided Andhra Pradesh N T Ramarao, died in a car crash in Telengana's Nalgonda district on Wednesday, police and hospital officials said. He was 62.
Two others who were in the car with Harikrishna sustained injuries, Nalgonda police said.
The former Rajya Sabha member and brother-in-law of Andhra Pradesh Chief Minister N Chandrababu Naidu was on way to Nellore district for a wedding when his car rammed the road divider on Nalgonda highway.
The impact was so great that the vehicle got flung over the median barrier to the opposite side of the highway where it smashed against another car.
The Telugu Desam Party politburo member, the fourth son of N T Ramarao, sustained serious head injury and internal bleeding and he was immediately taken to a private hospital at Narkatpally.
"He sustained severe head injuries. We tried our best to save him but we could not," Shashidhar Kamineni, managing director of Kamineni Hospitals said.
His last rites will be performed with official honours, government sources said citing Telangana Chief Minister K Chandrasekhar Rao.
Harikrishnas body was brought to his residence in Hyderabad where leaders and ministers from both Telangana and Andhra Pradesh paid their homage.
A senior police official said quoting Harikrishna's co-passengers that the TDP leader was at the wheel when the accident occurred. He apparently lost control while drinking water from a bottle, the officer said speaking on condition of anonymity.
Harikrishna, who made his acting debut in 1964 as a child artiste in 'Sri Krishnavataram', had acted in a number of Telugu movies including 'Seetayya' and 'Lahiri Lahiri Lahirilo', bagging the Nandi Award for best character actor for his role in the latter.
His sons Kalyanram and Taraka Rama Rao, popularly known as Junior NTR, are Telugu filmstars. His another son Janakiram had died in a road accident in 2014.
Harikrishna, who was a minister in the N Chandrababu Naidu government in undivided Andhra Pradesh in 1996, had a bitter falling-out with his brother-in-law and floated his own party Anna TDP in 1998. The two later made peace and Harikrishna returned to the TDP.
He was elected to the Rajya Sabha from undivided Andhra Pradesh in 2008 but resigned in 2013 to protest the state's bifurcation and creation of Telangana.
Vice President M Venkaiah Naidu condoled Harikrishna's death, saying he was saddened by the tragedy.
"As a popular actor he has entertained the Telugu audience. As a parliamentarian, he was very upright and expressed his opinions frankly. My condolences to his family, well wishers and followers at this time of grief," he said in a tweet.
Chandrababu Naidu said Harikrishna's death was a "deep loss" to the TDP and Andhra Pradesh.
Chandrababu Naidu, former union minister and Harikrishnas sister Purandheswari and brother and Hindupur MLA Balakrishna visited the hospital.
"Beginning as a child artist, Harikrishna donned many roles in Telugu movies and endeared himself to people. As a political leader too, he rendered commendable services. His tragic death is a deep loss to the TDP and the state," the Andhra Pradesh chief minister said in a statement.
Telangana Chief Minister K Chandrasekhar Rao also mourned the untimely demise of Harikrishna, an official release said. Rao recalled his political and cinematic achievements.
Leader of the Opposition in the Andhra Pradesh assembly Y S Jaganmohan Reddy expressed shock at the sudden death of Harikrishna.
"Shocked at the sudden demise of Nandamuri Harikrishna. My thoughts and prayers are with the bereaved family members," Reddy said in a tweet.