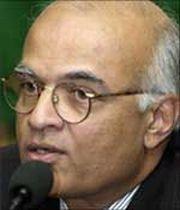 In the first high-level Sino-India contact since the once-in-a-decade leadership change in the ruling Communist Party of China, National Security Advisor Shivshankar Menon arrived in Beijing on Sunday for wide-ranging talks on bilateral ties, including the vexed border issue.
During his three-days stay in Beijing, Menon would be meeting some of the new leaders elected during last month's Congress of the ruling Communist Party of China to succeed the outgoing administration headed by President Hu Jintao.
There is no official announcement in Beijing about Menon's schedule.
Besides holding talks with his counterpart and China's top diplomat Dai Bingguo, who too would retire in March next year, Menon is expected to call on Vice Premier Li Keqiang, the number two leader in the seven-member new Standing Committee of the party headed by General Secretary Xi Jinping, according to official sources.
Li is tipped to succeed Premier Wen Jiabao when he steps down in March after which a new administration headed by Xi, who would replace President Hu Jintao, would take over power formally.
Menon, who is a familiar figure in the top echelons of the Chinese administration by virtue of his previous postings here including as India's ambassador, will hold talks with Dai on Monday.
The two officials designated as Special Representatives for the talks to resolve the border issue would review the progress achieved during the last 15 rounds of parleys and exchange views on a wide spectrum of bilateral relations, according to officials.
Menon-Dai meeting this time is not officially designated as the 16th round of talks apparently due to Dai's impending retirement.
Successor to Dai, who in Chinese hierarchy is called the State Councillor, is expected to be announced soon.
Foreign Minister Yang Jiechi is regarded as one of the front-runners for post, which is considered the top diplomatic posting in China over and above the Foreign Minister.
Besides talks with the Chinese leaders, Menon will be releasing the book on Chinese translation of the works of Prof P C Bagchi, regarded as India's most eminent scholar on Chinese culture.
Menon would also deliver a talk on India-China relations at the Indian embassy here on December 4.
Sounding positive about Menon's visit, Chinese Foreign Ministry spokesman Hong Lei said on Friday that "Chinese side attaches great importance to Menon's visit to China."
On the border issue, he said the two countries shared a lot of "common ground" and the talks have so far made "positive progress."
"For years, the overall situation in the China-India border area has been peaceful and stable," Hong had said. "The two countries share a lot of common ground on resolving the boundary issue through peaceful and friendly consultations. Special Representatives' Meetings have also made positive progress."
"China is ready to press ahead with bilateral negotiation on the boundary issue in the spirit of peace, friendship, equal consultation, mutual respect and mutual understanding in a bid to find a solution that is fair, rational and mutually acceptable," he had said.
India asserts that the dispute covered about 4000 km, while China claims that it is confined to about 2000 km to the area of Arunachal Pradesh, which it refers to as Southern Tibet.