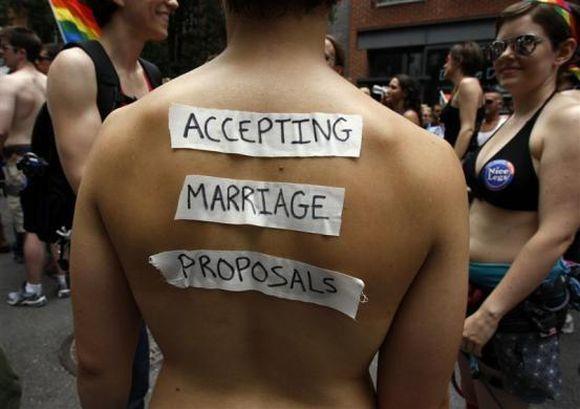 In a landmark ruling, Australia's highest court on Thursday struck down the gay marriage law in the country's capital Canberra saying it could not operate concurrently with the federal Marriage Act.
The high court unanimously ruled that the ACT's law could not operate concurrently with the federal Marriage Act, which was amended in 2004 to define marriage as between a man and a woman.
The verdict came after the federal government had challenged the validity of the Australian Capital Territory's law that allowed same sex marriages in Canberra and surrounding areas.
The court said, "the object of the ACT Act is to provide for marriage equality for same sex couples and not for some form of legally recognised relationship which is relevantly different from the relationship of marriage which federal law provides for and recognises."
The summary judgement further said, "Accordingly, the ACT Act cannot operate concurrently with the federal Act."
The verdict comes a day after India's Supreme Court set aside the 2009 lower court's order decriminalising homosexuality.
The court said because the ACT does not validly provide for the formation of same sex marriages, the whole of the ACT's Marriage Equality (Same Sex) Act 2013 has no effect.
The ACT Marriage Equality (Same Sex) laws passed the territory's legislative assembly in October, but only came into effect last month. Meanwhile, the Federal Attorney-General George Brandis said irrespective of people's views on same-sex marriage, it is in Australia's interests to have a nationally consistent marriage law.
He said he was pleased the high court has taken that position.
"The Commonwealth welcomes this decision. The basis upon which the decision was reached by their honours was the supremacy of the marriage power in section 51.21 of the constitution," he said.
Rodney Croome, national director of the advocacy group Australian Marriage Equality, said his group knows of about 30 same-sex couples who have married since Saturday, though the actual number may be slightly higher, the AAP news agency reported.
Alan Wright, who married his partner Joel Player just minutes after midnight on Saturday, said the court's decision had inspired him to fight even harder for equality and focus his efforts on getting the federal government to change the law.
"I am now immensely proud to be part of a very unique, committed and courageous group of people, who -- despite probably deep down knowing that it was going to be overturned ... still stood up and said 'no, we're going to do this'," the agency quoted Wright as saying.