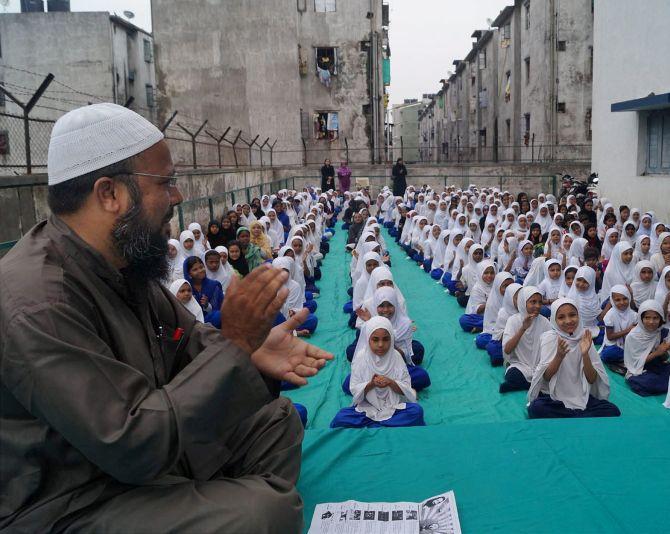 Amid opposition in some quarters, a Muslim group on Wednesday came out with a book seeking to allay apprehensions of the community about the International Yoga Day.
Titled 'Yoga and Islam', the booklet is compiled by the Muslim Rashtriya Manch, a wing of Rashtriya Swayamsevak Sangh. The book was launched by AYUSH Minister Shripad Naik. The book also draws parallels between some yoga exercises and namaaz.
"This is a good step taken at the right time. Whatever controversy had arisen, the organisation has tried to cool it down. I am thankful to them. The controversy had arisen unnecessarily without any reason. Their effort to bring out the truth is appreciable," Naik told reporters.
The 32-page booklet has 12 chapters named as 'yoga is not un-Islamic', 'objective of yoga is not to spread Hindu religion', 'namaaz is one sort of yoga asana' and 'yoga is not unknown to Muslims'.
"There was no opposition to the yoga day in the entire world. There was some opposition in the Muslim community. That is why we took this initative. There is no difference between Islam and yoga. The way yoga is needed for the entire country Muslims also need it.
"The book will be launched in all the states. It will also be translated into English and Urdu. Those who do politics over it, it's their work. For us, yoga is our pride and we want to spread it all over the world," Mohammad Awzal, MRM national convener said.
The booklet has been complied by Imran Chaudhary and Abhijeet Singh and published by MRM, the ministry said. MRM officials said that 'namaz' has yoga in every act.
"The first step of 'namaz' is known as 'qayaam' and in yoga term it is known as 'tardsasana' while the next step in 'namaz' is 'ruku' which in yoga terms is known as 'nauli kriya'," an official said.
This is followed by 'sujood' which in yoga term is known as 'sashang wajr asana' and the last in 'namaz' is 'julus' which is known as 'wajr asana' in yoga, he said.
This comes against the backdrop of certain Muslim groups opposing to offer 'surya namashkar' and reciting Sanskrit 'slokas' in the beginning of the mega event on Rajpath.
However, the government has clarified that it was not compulsory for them to say 'slokas' nor was 'surya namashkar' part of the common yoga protocol for June 21.
Naik said that a task force and a committee will be formed to chalk out a roadmap on how to take yoga into every household.
Given the similarities between yoga and namaz, Naik was asked why not allow 'namaz' on yoga day. He said that one can go ahead with it as there was no compulsion for anybody.
"Yoga is not for any caste, religion. It just works for making a person healthy. It also helps connect to the God. It is not anybody's fiefdom.
"What is the relation between yoga and Islam. While we are reading Quran and offering namaaz, the position which we take, it is there in yoga. It has been depicted through pictures in the book. Through this, the misconception which the Muslims had, has gone away and whatever is left will also vanish," Naik said.
Asked about yoga preparations in Pakistan, Naik said that many NGOs have written to the ministry and given proposals. "They will do it on their own. We have provided the booklet of the common yoga protocol as well as DVDs to them," he said.
Asked about the Muslim groups opposition to 'surya namashkar', president of Majlis-e-Ulema-e-Hind Maulana Syed Kaukab Mujtaba Abdi said that the act would not be "un-Islamic" if performed without considering the sun as "the God".
"If we consider 'surya nasmaskar' as Allah or Bhagwan then it will not be right. But the way the Sun has been praised in Quran as it gives life and light, then it is right," Abdi said.
Abdul Rashid, MRM official said that it was a great achievement of the Narendra Modi government that June 21 has been declared as the International Yoga Day by United Nations but the bigger achievement will be when everyone will take part in the mega event.