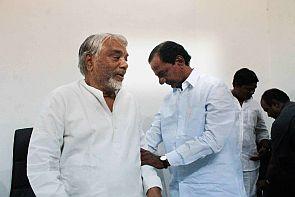 Telangana Rashtra Samithi president K Chandrasekhar Rao on Tuesday asserted that his party would only accept formation of separate Telangana as a solution to the long-pending statehood issue in Andhra Pradesh.
"No other proposal would be acceptable to us. Telangana people would reject any other proposal," he said here.
His reaction came amid reports that the Centre would soon come up with a solution to the contentious Telangana issue.
Union Home Minister Sushilkumar Shinde earlier in the day said in Delhi that discussions were going on at the highest level on the statehood issue.
The TRS president expressed hope that his party would emerge as a major political force after the 2014 assembly and general elections in the Congress-ruled state.
He was speaking after former Congress leader K Keshav Rao, who joined TRS over a fortnight ago, took over as secretary general of the sub-regional party in Hyderabad.
Keshav Rao would also head the national affairs coordination committee of TRS, the party chief said.
Image: TRS chief K Chandrashekar Rao and newly-appointed secretary general Keshav Rao in Hyderabad on Tuesday
Photograph: SnapsIndia