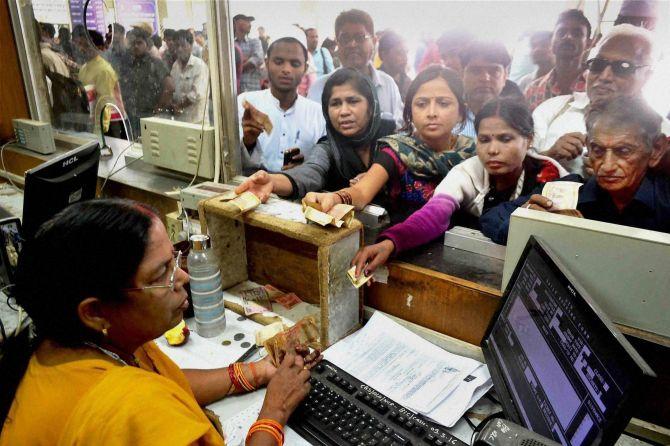 IMAGE: Passengers give 500 rupee notes for train tickets at a booking window at Alalhabad Railway station on Wednesday. Photographs: PTI Photo
People faced hardships on Wednesday in procuring essential items and using public transport as they scurried for small change while petrol pumps were flooded with harried consumers and toll plazas saw long queues, a day after high denomination notes in the country were withdrawn.
Daily wage earners and casual low income group workers were the worst affected, struggling to make transactions and get chutta or change while roadside kiosks, vegetable sellers, small traders and hawkers were gripped with anxiety notwithstanding calls to avoid panic.
Reports from several cities said that several mom-and-pop stores experienced a drop in consumers with the difficulties of the man on the street compounded with ATMs remaining closed after overnight demonetisation of Rs 1,000 and Rs 500 notes by the government as part of the crackdown on black money.
Also, some small time traders and grocery shops put up boards outside their establishments, saying that notes of Rs 500 and Rs 1,000 denominations would not be accepted for any transaction, thus inconveniencing the common man who makes day-to-day transactions in small cash.
In many places, people having Rs 1,000 and Rs 500 denomination notes with them were seen running pillar to post for getting it changed for Rs 100 bills amid reports that people were having a tough time to get medicines.
Thousands of Mumbaikars were put to hardship in procuring essentials and meeting other daily chores like catching local trains and buses to reach their workplace.
Many locals said they had to return empty handed in the morning while purchasing milk, vegetables, medicines in the absence of adequate Rs 100 notes. Several commuters using public transport like taxis and auto-rickshaws faced a tough time as they were refused transaction with Rs 500 notes.
Petrol pump dealers said people coming for fuel where they want the change back are being denied as they are running short of Rs 100 notes.
Petrol Dealers Association appealed to customers to fill fuel worth Rs 500 or Rs 1,000 or more to reduce this inconvenience.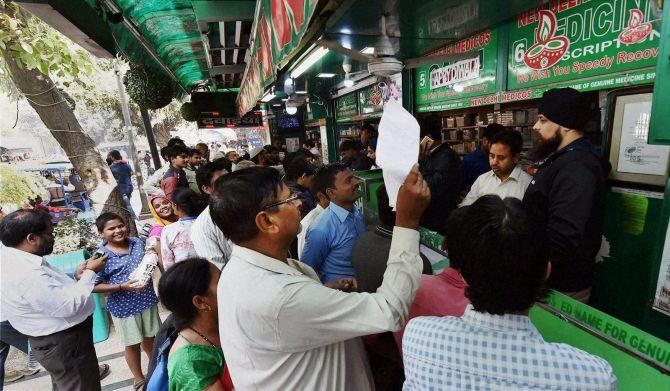 IMAGE: People crowd a chemist shop in New Delhi on Wednesday. Photograph: Vijay Verma/PTI Photo

"How can I fulfil my family requirements and other expenses with so little cash in my hand?. My hard earned and saved money (showing 1000 notes) are useless right now and I feel cheated and looted now," said a Mumbai-based professional.
A retired bank professional Rashmi Chavan said, "I don't know if such a move to curb corruption/black-money will be successful or not, but people are certainly facing inconvenience with this."
In the national capital, there was chaos outside Mother Dairy, Safal and some other government-run cooperative outlets besides state-run hospitals, railway stations and petrol pumps which were allowed to accept Rs 500 and Rs 1,000 notes till Friday.
While there was panic among certain sections, small traders, rickshaw pullers, taxi and auto-rickshaw drivers said they have been hit hard due to 'shortage' of smaller denomination notes.
In Uttar Pradesh, the police has been alerted to maintain strict vigil near banks and other places to maintain law and order.
"Director General of Police Javeed Ahmad has issued directives to all district police chiefs stating that there may be serious law and order issues after the announcement.
"Patrolling and visibility (of force) should be there at market areas, near banks, post offices," Additional Superintendent of Police in DGP office Rahul Srivastava said in Lucknow.
In Chennai, most of the shops--retail, jewellery, supermarkets and petty shops told their customers that they are not accepting Rs 500 and Rs 1,000, prompting many to opt for debit and credit card payments.
"I hope things settle as quickly as possible as there are still places like small shops where they don't accept cards," M Subha, a homemaker purchasing goods at a supermarket said.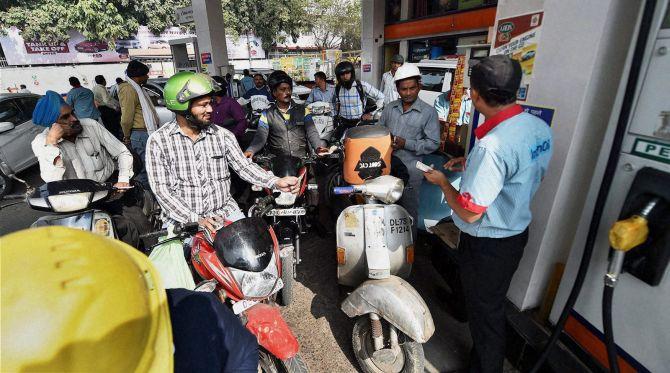 IMAGE: People line up at a petrol pump.
In Haryana, directions were given to police to ensure maintenance of law and order, especially at petrol pumps, bus stands and toll plazas so as to avoid any inconvenience to the general public.
Toll plazas in several parts of the country reported long queues.
A report from Patna said people faced inconvenience at a toll plaza at an Expressway from Patna to Bakhtiyarpur when Rs 1,000 and Rs 500 notes were being given in expectation of exchange in lower denomination currency.
The National Highways Authority of India later directed toll plazas to accept higher denomination notes till Friday.
"We have issued instructions to all 365 toll plazas across the country to immediately accept currency denominations of Rs 500 and Rs 1000 till November 11 midnight to ease the situation of jams and long queues at toll booths," NHAI chairman Raghav Chandra said.