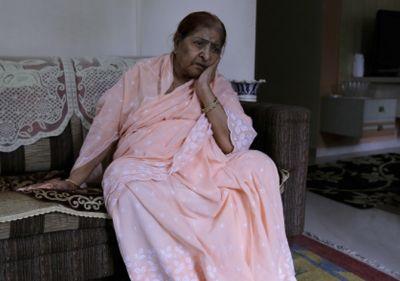 Zakia Jafri, wife of Congress member of Parliament Ehsan Jafri who was among those killed in the Gulberg Society massacre, on Thursday expressed disappointment over the court acquitting 36 people and said they should have been punished as they 'killed people and destroyed property'.
Her son Tanvir Jafri said he would consult lawyers on how 36 others were acquitted before deciding on whether to go for further appeal.
Zakia said her fight for justice would continue.
"I am not satisfied with the court verdict. They should have been punished because I know what they did. They must get the punishment as they killed people and destroyed their families. I saw them doing it with my own eyes," Zakia said.
She said that being a woman, she doesn't have the courage to demand capital punishment for the accused, but they must be awarded stringent punishment.
"When they (those acquitted by court) will be separated from their loved ones, they will realise what we went through," she said.
"My fight should have stopped but looking at today's judgement the fight will continue," she said.
A special SIT court in on Thursday convicted 24 of the 66 accused, including a Vishwa Hindu Parishad leader, in the 2002 post-Godhra Gulberg society massacre, which left 69 people dead.
Tanvir expressed surprise how only 24 people were convicted when a mob of 400 was involved in the rioting.
"The Gulberg society is not chai ki lari (tea stall) which can be burnt by one person. It is a very big society. About 15-20 bungalows were there, 10 flats were also there with 400 500 people staying there, 24 people cannot burn the whole society, loot, kill, burn large number of people in brutal manner for over 12 hours.
"It looks little odd. Thirty-six people have been acquitted. We will decide on whether to for further appeal or not (against the acquittal)," he said.
The Gulberg Society case shook the nation when a mob of 400 people set about attacking the society in the heart of Ahmedabad and killed the residents.
The incident had taken place a day after S-6 coach of Sabarmati Express was burnt near Godhra train station on February 27, 2002 during which 58 'karsevaks' were killed. Tanvir said many of the accused named in the first information report were given bail immediately.
"It has been long battle for me and my mother. For all of us, it was a very tough journey," he said.
Activist Teesta Seetalvad, whose Non-Governmental Oorganisation Citizen for Justice and Peace took up cases of victims of the Gujarat riots, welcomed the judgement.
"We will study the judgement, we definitely believe that this is a case of criminal conspiracy and we will exercise our right of appeal in it," Setalvad said.
"I just want to say that it's a huge tribute to the CJP team and the lawyers who stood by the victims, the team has been appearing in many of the cases and the lawyers have stood like a rock.
"All I can say after 14 years of struggle is that we welcome and respect the judgement and till we actually study the final points of the judgement I cannot say anything more.
"But people don't realise what it means to undertake a struggle like this. Highest tribute must go to the survivors for their testimonies in the face of huge hostility," she said.
R K Raghavan, who headed the Supreme Court-appointed Special Investigation Team to probe the 2002 Gujarat riots, said he has 'mixed feelings' on the verdict.
"I have a mixed feeling as some were convicted while others acquitted. I shall be able to comment more only after looking at the order," said Raghavan, a former Central Bureau of Investigation director.
Image: Late former Congress MP Ehsan Jafri's wife Zakia Jafri at her home in Surat. Photograph: Amit Dave/ Reuters