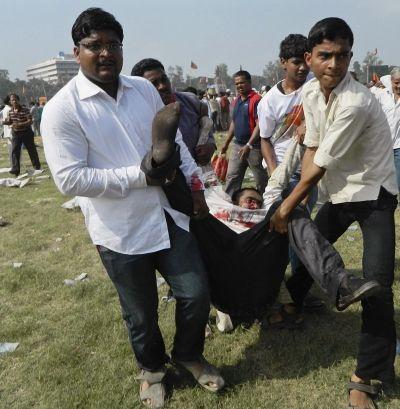 Investigating officials are taking Indian Mujahideen terrorist Tehsin Akhtar's claims with a healthy dose of salt, says Vicky Nanjappa
Tehsin Akhtar, the de facto chief of terror outfit Indian Mujahideen, has squarely blamed the Students Islamic Movement of India for carrying out the Patna serial blasts in October last year, according to sources in the Intelligence Bureau.
Tehsin, who was arrested from near the India-Nepal border, is believed to be the mastermind of the Patna serial blasts that had claimed seven lives.
He claimed that Hyder, a terror operative, ran an important SIMI module in Bihar which had orchestrated the Patna blasts.
"Our association with the SIMI is infrequent. They run their own independent modules. (Bharatiya Janata Party's prime ministerial candidate) Narendra Modi and (BJP patriarch) L K Advani are their primary targets," Tehsin reportedly told his interrogators.
"I know Hyder since he hails from Darabhanga. I met him there after the 13/7 serial blasts. I knew he was up to something. We have never discussed merging our outfits as the operations of the SIMI are more political in nature," sources quoted Tehsin as saying.
"After the Patna blasts, we met at Ranchi. He took shelter in the same rented accommodation I was staying in. He revealed that the Patna operation had been carried out by the SIMI. He told me that the SIMI is growing stronger and it is just a matter of time before they become a formidable force," Tehsin told his interrogators.
"The SIMI wants to carry out terror strikes that will have a strong impact. They want to target politicians and their rallies. They are keeping a low-profile now and waiting for an opportune time to strike," he said.
The IM chief added that the radical faction of the SIMI has a great deal of presence in Uttar Pradesh, Gujarat, Madhya Pradesh and Bihar.
Officials of the Intelligence Bureau, however, are taking Tehsin's claims with a healthy dose of salt.
They believe that Tehsin may have taken the SIMI's help for the Patna serial blasts but is putting the entire blame on the outfit to prove that he is innocent.
The SIMI has many members but they cannot carry out such an attack without the logistical support of the IM, especially in Bihar where the IM has a strong presence, said an official of the IB.
Tehsin also told the interrogators about his job in the Indian Mujahideen.
"I took care of the logistics of a terror strike, like providing shelter for the terrorists and organising funds for the attack. For the 13/7 Mumbai blasts, I had raised Rs 1.3 lakh through a hawala channel. We used some of that money to rent an apartment in Byculla," he said.
"After returning to Darabhanga, (13/7 terrorists) Yasin, Waqas and Assadullah Akthar stayed there for three months. Yasin was very concerned about his wife Zahida as he was unable to meet her due to the crackdown by security agencies. He urged me to meet her in Delhi and hand over some money and a mobile phone, which she had to use sparingly.
He did not want to call her up directly. I went to Delhi, met Yasin's wife and handed over Rs 1 lakh and a mobile phone," revealed Tehsin.
"We planned the next attack at Dilsukhnagar in Hyderabad. Yasin soon decided to flee to Pakistan for some time. He was on his way to Pakistan, via Nepal, when he was arrested near the border," said the IM operative.
The Delhi police and the National Investigation Agency now plan to conduct a combined interrogation session of Yasin, Assadullah Akthar, Waqas Ahmed and Tehsin.
The top echelon of IM terrorists will be asked the same questions to cross-check each piece of information shared by them with the security agencies.
Image: At the site of the Patna serial blasts ' Photograph: Reuters