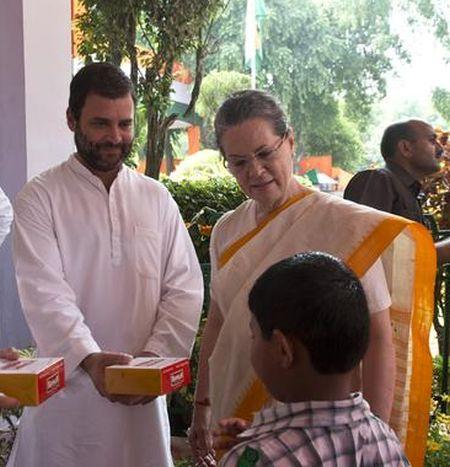 Congress President Sonia Gandhi and her deputy Rahul Gandhi on Saturday refrained from commenting on Prime Minister Narendra Modi's Independence Day speech, with the party vice president saying it is not a day of politics.
"Today is not a day of politics. We will talk tomorrow," he merely said, when asked by reporters on his reaction to the PM's address on Independence Day.
Sonia Gandhi too steered clear of any questions and merely greeted reporters on Independence Day. They were interacting with the media after the Congress president unfurled the national flag at the Congress headquarters.
In his address to the nation, the PM, while underlining India's unity and diversity, said the poison of casteism and communal frenzy have no place and asserted that steps taken by his government in the last 15 months to deal with the "termite" of corruption had started yielding results.
"There is a lot of talk in our country about corruption. It is like a sick person giving suggestions to others on how to remain healthy, there are people who are themselves corrupt, who give suggestions on how to deal with corruption," he said.
However, other Congress leaders alleged that the schemes enumerated by the PMin his speech from Red Fort were those started during the United Progressive Alliance government and accused him of having different definitions of corruption, one for political opponents and the other for his own leaders.
"What new thing has he stated. He has talked of two-three schemes, but I am sorry to say that those schemes were started by the Congress party during the UPA government," said Leader of Opposition in Rajya Sabha Ghulam Nabi Azad.
Congress leader Ambika Sonia questioned Modi for "remaining silent all along on corruption by his ministers". "We kept asking that if you want to break the logjam in Rajya Sabha, let the PM come and explain the steps he is planning to take or he has taken on the corruption scams which centred around Lalit Modi and disclosures which came on it and Vyapam. He did not show up there and has not opened his mouth.
"Suddenly on August 15 he says there is no corruption. Nobody is going to believe him," she said.
Former Defence Minister A K Antony accused the PM of going back on his commitment on 'One Rank, One Pension'.
"In the budget of February 2014, UPA government announced that it is accepting OROP and it will be implemented on April 1, 2014 onwards with retrospective effect. Our government announced OROP and we took all the decisions to implement it.
It was a question of completing certain formalities for calculating individual pension.
"After 15 months, no less than the person like the PM saying we are accepting it in principle. It is going back. It is a total disappointment for the ex-servicemen community," he said reacting to the PM's comments on OROP.
Image: Rahul and Sonia distribute sweets to kids at the Congress headquarters after unfurling the Tricolour on Independence Day. Photograph: @INCIndia/Twitter