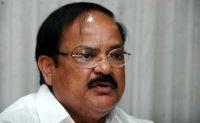 Bharaiya Janata Party leader Venkaiah Naidu on Monday said he has no sympathy for the gang rape accused who allegedly committed suicide in Tihar Jail.
"If he has committed suicide then I do not have any sympathy. But as the family (of accused) is alleging that it is a murder then it is a different case and inquiry will reveal it," Naidu told reporters outside Parliament.
Ram Singh, the prime accused in the December 16 gang rape of a 23-year-old girl here, allegedly committed suicide in a high-security cell in Tihar Jail early on Monday morning.
According to jail officials, 33-year-old Singh hanged himself with the help of his clothes from the grills of his cell in Jail No 3 at around 5 am.
"This has to be probed if there is a lack of security particularly in such cases. As far as I am concerned I have no sympathy for such persons. Though it (offence) has to be proved in the court but it is evident to all people and they (accused) have also accepted their guilt also before the magistrate. So I have no sympathy," the BJP leader said.
"The government should take the security issue of the accused lodged in jail seriously," he said.
When told that that the accused's family is alleging it is not suicide but murder, Naidu said, "Government will be able to tell after inquiry".
Meanwhile, Bahujan Samaj Party chief Mayawati demanded a high level inquiry into the death.
"This is a matter of investigation and the Centre should conduct a high-level inquiry to go deep into the case," she told reporters outside Parliament.
Tihar Jail has already ordered an inquiry into the matter.